Super Double / Triple Deck
The expandable management system for laying hens
Ideally suited for tropical climates, Super Double Deck and Super Triple Deck are laying batteries with two or three tiers, developed by Big Dutchman and characterized by a long service life, high functionality and perfect conditions for humans and birds. During their development, we focused on the system's suitability for tropical climates and optimum use of natural ventilation. Big Dutchman offers these systems in different versions and expansion stages in order to suit your needs and to allow for an easy start-up of modern egg production.
Available in manual, semi-automatic or automatic versions
High-quality zinc aluminum coating of the whole system provides corrosion resistance 3 to 4 times better than galvanized wire, making this ideal for tropical climates
Open design of the system ensures that air can circulate without obstructions
Entire cage front can be easily opened to move birds in and out
Deep trough with inward rim minimizes feed loss
Step-access feed trough provides easy access to other tiers for inspection and management
Bottom wire grille is placed on wire brackets for good system stability, yet is highly flexible to ensure good egg quality
Height-adjustable feet provides optimum longitudinal alignment of the system
The basic version does not require an electrical connection. Feeding, egg collection and manure removal are carried out manually. The system height of 1.72 m is optimally adapted to this version. Daily egg collection and feeding as well as inspection of the hens are easily completed tasks.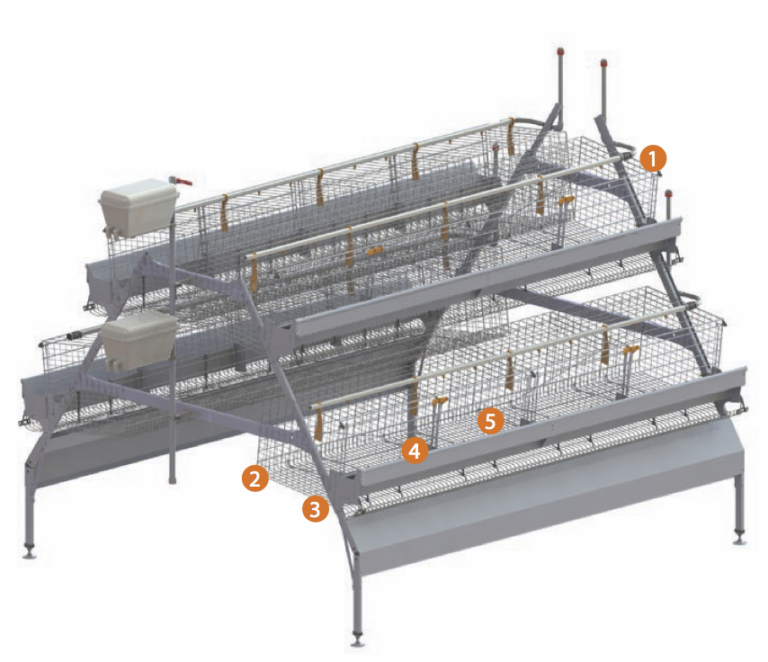 1. Nipple drinkers supply the birds with water (two drinking nipples per cage)
2. Zn-Alu wire provides high corrosion resistance; wire partitions increase air flow for increased bird comfort
3. Low number of cracked eggs thanks to the flexible bottom wire suspension
4. Specially designed feed trough minimizes feed loss
5. Step-access trough allows for easy system and bird inspection
6. Simple to move birds in and out thanks to the completely opening sliding front access doors
A hand-pulled feed cart is used, ensuring even feed distribution. End sets are required at the beginning and the end of each cage row for this. If the rows are relatively short, only one end set is needed. Egg collection and manure removal are carried out manually.
Double Deck: Hand-Pulled Feed Cart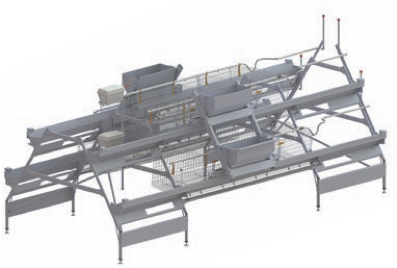 Triple Deck: Hand-Pulled Feed Cart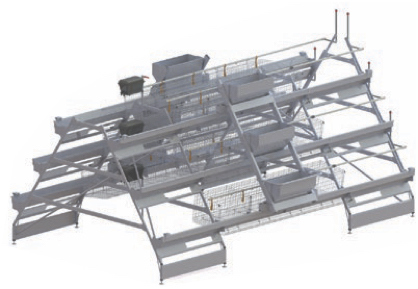 Feeding: The hens are fed by an automatic feed cart or by an automatic feed chain – at the customer's choice. The Big Dutchman chain feeding system with the Champion feed chain has been developed in 1938 and has proved itself a million times over thanks to its robust and simple design. It only needs very little space in the end set area and is easy to maintain. The chain has a long service life.
Double Deck: Auto Feed Chain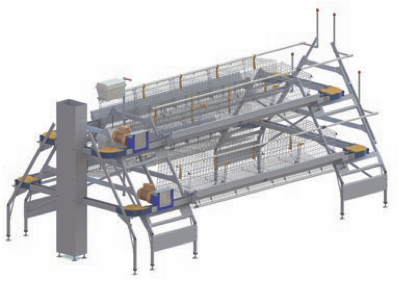 Double Deck: Auto Feed Cart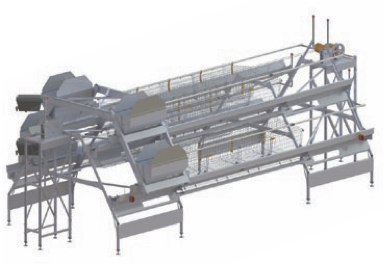 Triple Deck: Auto Feed Chain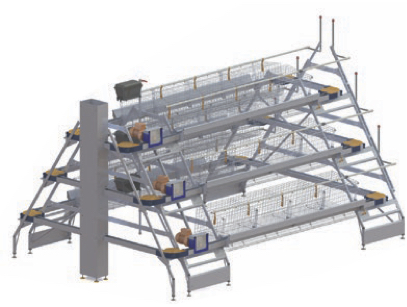 Triple Deck: Auto Feed Cart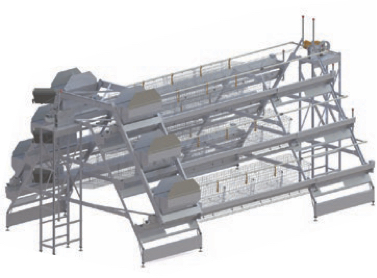 Egg Collection: An egg belt is placed in the egg channel, automatically transporting the eggs towards the gathering table. The tables can be folded down, thus not interfering when not required.
Manure Removal: In addition to feeding and egg collection, manure removal is now also automated. A manure scraper removes the manure regularly and reliably from below the system with minimum effort, additionally providing good protection against flies and ammonia.
Double Deck: Auto Feed Chain & Egg Collection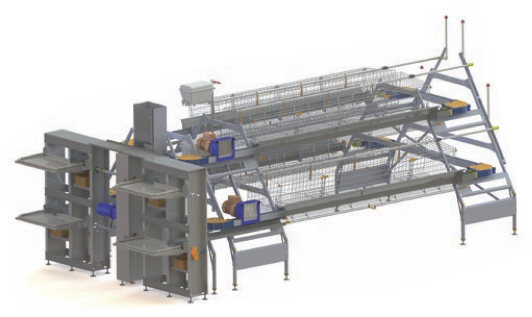 Auto Manure Removal System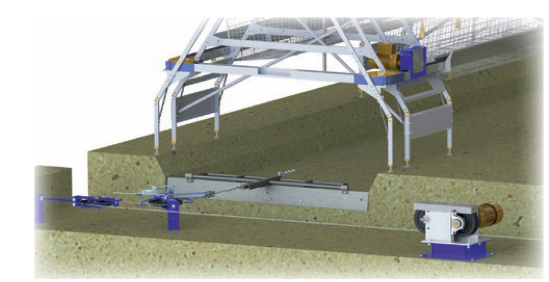 View and download the latest Super Double Deck & Super Triple Deck product brochure.
Get Started on Your Project
Over the course of 80 years we have designed, tested, developed, and refined egg production equipment to meet every imaginable need. Get in touch with our sales team to discuss your farm requirements today.