Big Dutchman is the world's leading provider of innovative equipment for modern egg, poultry and pig production.
We are committed to providing long-lasting and performance-enhancing solutions that meet farmer's future needs.
In 1938, Big Dutchman was founded in the US by two brothers from Zeeland, Michigan. Now headquartered in Vechta, Germany, Big Dutchman has grown into one of the world's largest equipment suppliers for modern poultry and pig production. With multiple offices spread around the world, the Big Dutchman group supports more than 3,500 employees and sells its innovative products in over 100 countries.
Big Dutchman stands for long-lasting quality and unsurpassed service. Every day farmers all over the world realize the benefits of Big Dutchman's dedication to innovation. From our poultry and egg production systems, to our tightly integrated automatic controls, we continue to set standards for efficiency, productivity and reliability.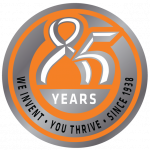 We love Big Dutchman products and
truly believe
they play a big part in the success of our farm.
– Krista Harris, B Jack Farms