Exceptional strength and durability
The Big Dutchman PROFIT-tier Plus Layer Cage System is a re-designed system to incorporate some of the features of our UNIVENT line, while maintaining the integrity of our PROFIT-tier line. With the PROFIT-tier Plus you'll enjoy the added benefits of a steppable feeding trough, sliding front doors for easy access and space between tiers for better air flow in open sided houses.
The PROFIT-tier Plus Layer Cage System incorporates Big Dutchman's proven truss-rod suspension and extremely stable, durable A-frame construction. PROFIT-tier's unique suspension maintains alignment for exceptional strength and stability, increasing the life of the cage, feeding, and egg collection systems.
Cages are attached to the feed trough at the leg stands for increased stability, and with an innovative foot design and screwed-together leg stands maximizing strength and durability. And with the PROFIT-tier being made with Galfan your cages will last longer, and work more efficiently.
Flexibility in cage design for either remodeled or new installations
Superior strength and easier installation with durable construction
Unique design controls egg-roll out, significantly reducing cracks and checks
Safe and efficient egg handling with EggCellent egg collector
Dependable and efficient feeding with Champion Chain Feeding System
Optional feed cart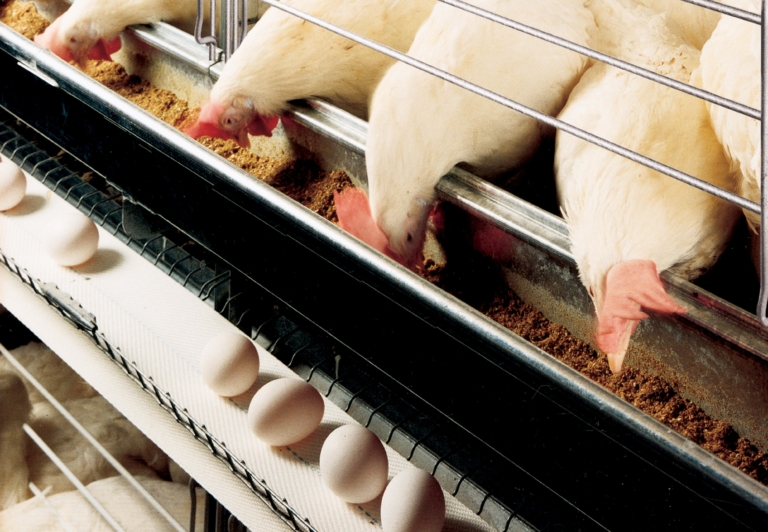 Outstanding Design, Construction and Manure Handling
Flexibility in cage design: A wide range of cage profiles makes the Profit-Tier system a flexible solution for either remodeled or new installations.
Available in 20" or 23" deep (508 or 609 mm)
24" (610 mm) cage widths
3 or 4-tier cage designs
Leg stands with 8' spacing
Durable construction: A wrap-around single-piece top, front, and back offer superior strength and easier installation than cages with separate pieces. The unique cage design controls egg roll-out, significantly reducing cracks and checks. Feet and lower legs are also available in stainless steel for increased corrosion protection. Cart guides are available with a variety of mounting options.
Safe and efficient egg handling is done with our EggCellent egg collector which has an innovative design to provide high volume egg collection with less adjustments, and maintenance, while still providing protection for the eggs. The EggCellent's special egg conveying chain is made of interlocked plastic module parts, which will not stretch and requires no lubrication. These chain modules feature integrated soft padding for impact protection and gentle egg transport.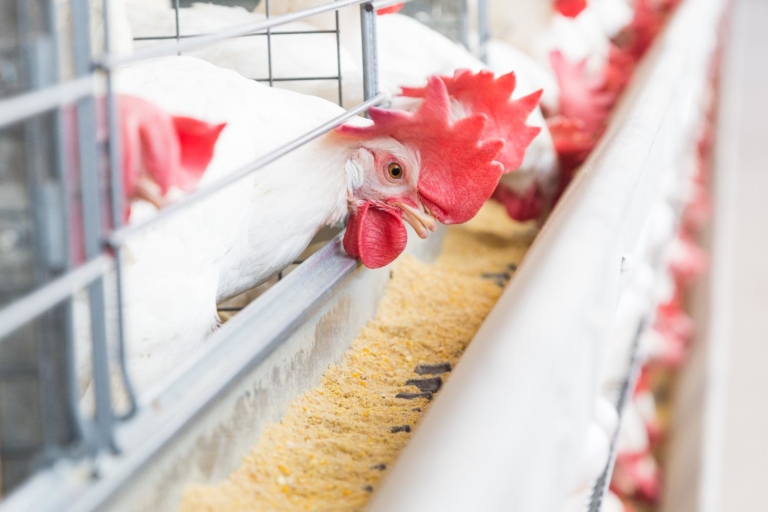 The Profit-Tier Layer Cage System features Big Dutchman's renowned Champion Chain Feeder—the most dependable and durable feeding system available. The Champion Chain Feeding System continues to prove itself in installations around the world and provides numerous benefits, including:
The feed gate easily adjusts the level of feed in the trough. The feed gate regulates the amount of feed coming from the hopper, keeping a consistent supply of feed on the chain
The Champion Chain presents feed according to the producer's management schedule—not the manufacturer's schedule. Feed can easily be increased or decreased
Independent single or dual drives are separate from hoppers, drastically reducing the load on corners and significantly lengthening the life of all components
Champion provides uniform nutrition for every bird. Calcium is more evenly distributed by chain feeding since the chain carries feed
Champion Chain is safer. Feed is 'presented' on the top of the flat, smooth chain, helping to eliminate risk of bird injury
Champion yields unequaled feed conversions for significant cost savings
The optional feed cart runs at 18 ft. per minute with feed being dosed as the cart travels in one direction. Each tier has its own feed level adjustment.
View and download the latest PROFIT-tier Plus Layer product brochure.
Get Started on Your Project
Over the course of 80 years we have designed, tested, developed, and refined egg production equipment to meet every imaginable need. Get in touch with our sales team to discuss your farm requirements today.