Single hole laying nest designed for the next breed of breeder hens
The NXB is a single hole laying nest designed with both productivity and compatibility in mind. Produced for the next breed of breeder hens, this system features complete coverage for the eggs, removable sections for ease of use, and various optional additions to maximize your systems abilities.
Single hole laying nest with 10, 9, or 8 nest holes per section side (length of a section is 8' or 2,438 mm)
Plastic or woven belts are available
Full nest width egg shields
Complete coverage of the egg belt keeps eggs hidden
The nest floor and the substructure below the egg belt consists of corrosion-proof zinc aluminum-coated wire grate
The nest bottom is covered with a perforated nest insert which is easy to install or can be taken out for easy cleaning
Removable sheet metal covers allow the producer easy access to the egg belt for inspection
Centrally activated closure rods can be lowered at night to prevent hens from sleeping in the nest and aid in keeping the nests clean
The central suspension system can be winched for servicing between batches
View and download the latest NXB product brochure and other broiler breeder management resources.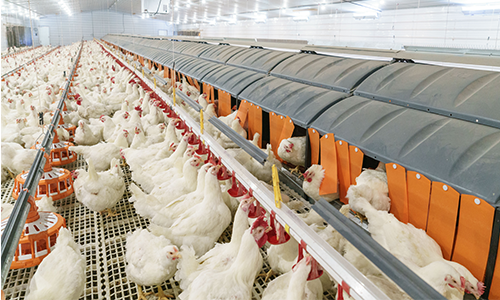 The Relax nest is a community style nest designed especially for broiler breeders. It has proven to provide birds with a better laying environment around the world. This system is not only compatible with other poultry production products for increased effectiveness but also is highly hygienic, as well as gentle to ensure safe and smooth transport for eggs.
Let a Local Distributor Advise You
Big Dutchman has a large network of trusted poultry distributors who are ready to work with you on your project. To get started, locate a distributor near you.