Investing in innovation at Nest Egg Poultry Farm
The first North American installation of the new NATURA Step XL aviary system
A third generation egg farmer in Abbotsford, British Columbia – Andrew Penner – recently acquired his family's poultry farm in 2019. Having worked full-time on the farm for 3 years prior to taking over the operation, Andrew had already begun discussions with his family about changes that needed to be made for the future. Production had reached full capacity (20,000 layers) with their current facilities when a quota increase came in 2018. He knew that in order to continue farming long into the future, he needed to update his facilities – so he began dreaming up and planning for a new barn with larger capacity.
Andrew reflected on when his planning began, saying "I knew I wanted to grow and that I needed to move away from the battery cage system of the past. I was interested in cage free for a number of reasons. One, I believe demand from consumers for cage free eggs is going to increase as people are becoming more aware of where their food comes from and are increasingly prioritizing animal welfare. Two, I wanted to be able to farm in a facility where I get to interact with the birds more and get to see them engaging in their natural behaviors. Third, I wanted to be able to build a farm that was more innovative than simply moving from caged production to enriched."
With these goals in mind, Andrew worked hard and spent many hours doing research on different types of systems that were available in the market. He visited several farms and talked with other egg producers as well to ultimately help him select which type of system was going to be the right fit for his farm.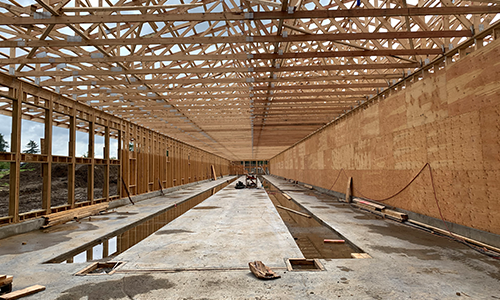 After all his research and consideration, and with the help of the great team at AgPro West Supply, Big Dutchman's authorized distributor, Andrew made the decision to install Big Dutchman's new NATURA Step XL aviary system. "Features I valued when looking at the NATURA Step XL included the lower overall height and step design that were easy for both birds and myself to climb onto. Also the strong galvanized construction and the double egg belts to increase capacity but also ensure eggs aren't rolling into each other from the opposite nest box," he explained. Construction began on the new barn in May of 2020. Photo courtesy of Andrew Penner.
The new facility at Nest Egg Poultry Farm was completed in October of 2020 and has a capacity of approximately 38,000 free run hens in two barns that are under one roof. Each side of the barn has just short of 300 feet of production space with two rows of Big Dutchman NATURA Step XL aviary in each. The layer facility will replace all of Andrew's older barns, and eventually he plans to build his own pullet facility as well. This system is a first of its kind in the North American market. Photo courtesy of AgPro West Supply.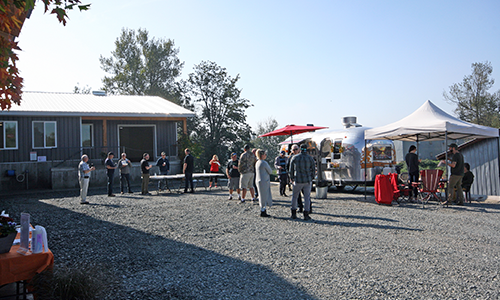 Open House Event: October 7, 2020
To celebrate the completion of the barn and installation of the new system, AgPro West Supply hosted an open house event on October 7, 2020 at the farm, inviting guests to see the latest in technology and equipment for the layer industry. Photo courtesy of AgPro West Supply.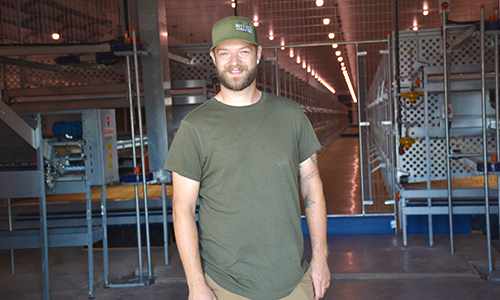 Proud to Invest in Innovation
"Having the opportunity to install the first Big Dutchman Step XL system in North America was a very exciting chance to invest in innovation on my farm and hopefully have a facility that lasts as long as my Grandparents farm did," Andrew stated. Photo courtesy of AgPro West Supply.
More About AgPro West Supply
AgPro West Supply, an authorized Big Dutchman distributor, began as a brand new business in the spring of 2018 in East Abbotsford, British Columbia. They quickly became one of the fastest growing agricultural businesses in BC within their first year open. Their knowledgeable staff have over 80 years combined experience in agriculture and poultry equipment sales and service.