Multi-tier open access true aviary system
The NATURA Nova Barn is a new multi-tiered true aviary system which is fully open. This new aviary expands on already proven systems available in our NATURA product family and offers higher stocking density as an added benefit, helping you optimize the space in your barn. With this system you get true cage-free production, meaning this true aviary system:
Features a true nest area, which creates an environment where the hens want to be – thus producing the best possible nest acceptance
Includes dedicated areas for resting, feeding and perching
Is open in design, allowing hens to move through and easily utilize all areas of the system – including having complete floor access to exhibit natural foraging and scratching activity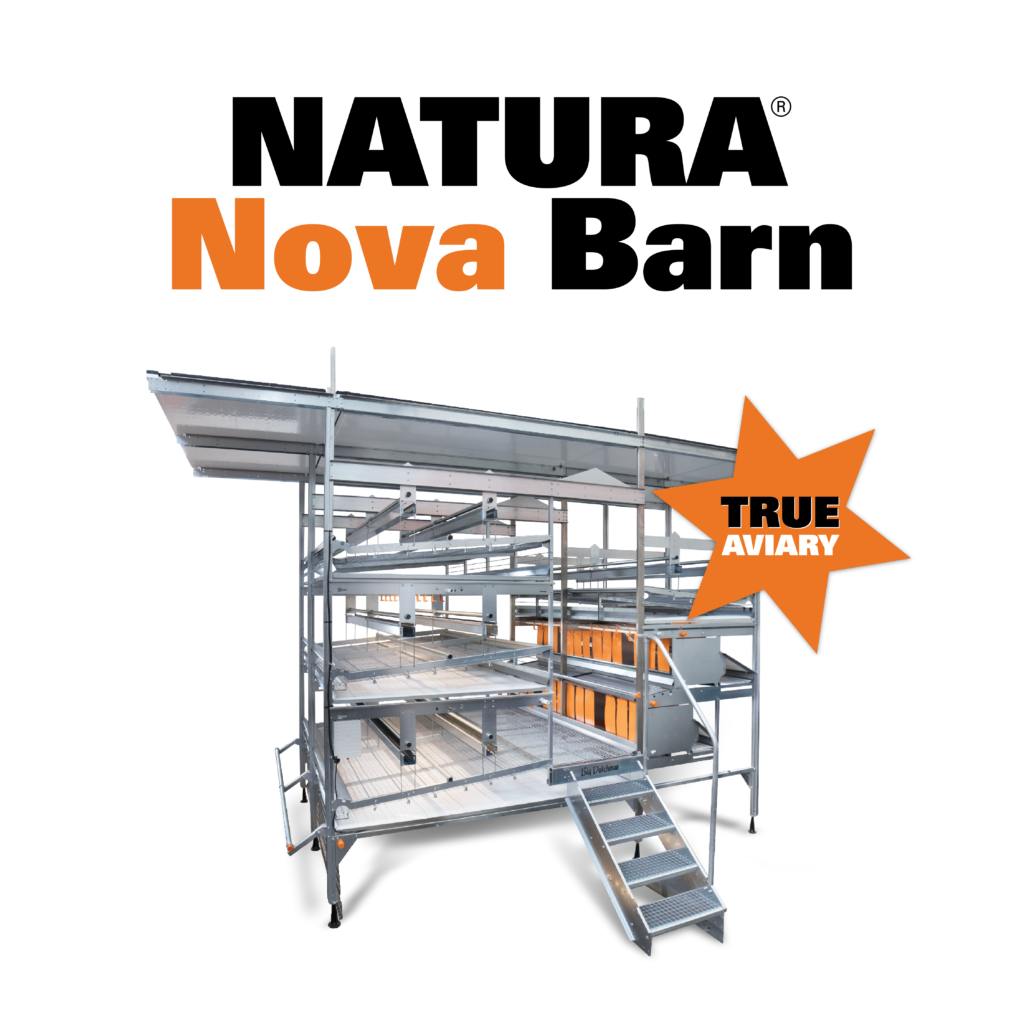 Stepped design for easy movement between the functional areas for resting, eating, drinking and nesting
Elevated walkway in the system offers easy inspection of the tiers
Drinker lines are positioned to draw birds to the nests
All feed troughs are reachable from the wire mesh floors
Large nest area with tilting floor design keeps the nest clean throughout the flock cycle
The hens can easily reach the nest, increasing nest acceptance
Egg belts can be serviced from the outside aisle
Floors can be configured for manual or automated system egg collection
Optional air duct is placed in the middle of each tier for even manure belt ventilation
100% of the house's floor is scratching area, providing more room for the hens to exhibit natural behaviors
Available as a multi-level system with integrated intermediate floor, plastic or plywood
To encourage flock movement
There's science in perch design and placement. Perches allow your flock to have a place to relax and the design provides comfort. The perch placement encourages flock movement, which relaxes the flock, and at the same time maximizes proper air circulation, resulting in a healthy and comfortable environment. The patented approach perch is designed to protect any mislaid eggs. It also positions the hens to face outside of the system while roosting, allowing the manure to fall onto the manure belt, resulting in lower ammonia levels and a cleaner system.
True aviary tilting nest floor
For a healthy and calm flock
Uniformity of lighting and ventilation, along with system design, result in even spacing of the hens throughout the house, resulting in properly dried litter. This is ideal for the flock as they dust bathe, scratch, and act out other natural behaviors. The hens will pay more attention to the litter and less to each other, resulting in a calm and healthy flock. Proper manure drying reduces ammonia emissions in the house, minimizing any harm to the environment, and promoting the birds' well-being. Manure drops through the Zn Alu coated floor onto continuous polypropylene belts, and is then carried out of the building.
System Inspection and Management
With our NATURA cage-free systems, flock inspection, gathering mislaid eggs, nest, feed and water inspection can all be done by walking the litter aisles.
Questions? Ask our Aviary Specialists
Managing aviary systems can seem overwhelming for producers. Our Aviary Specialists are here to help. Click the link below to find their contact information and feel free to reach out to them at any time to get your questions answered.
Get Started on Your Project