For stable and high velocity ventilation
Big Dutchman air inlet systems are designed for efficient circulation and ventilation within layer houses. Depending on structural conditions and special requirements, systems for negative pressure ventilation can be implemented using fresh air inlets for installation into the wall or ceiling.
Very versatile and guarantee an optimum, non-centralized fresh air supply for negative pressure ventilation
Inlets can be opened individually, creating stable air jets, even with minimum ventilation
Insulated inlet flap seals the house airtight
Pulling mechanism allows exact control of the inlet opening
Exact control allows stable circulation, maintains an even temperature and creates low heating requirements
Made of high quality materials for a long service life
High pressure cleaners can be used without concern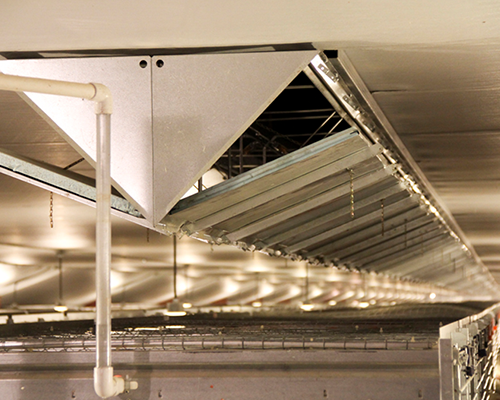 The sensible solution for cage house ventilation
Back-to-back air inlets above cage rows provide even air distribution throughout the house, allowing for better temperature management
Good air distribution improves feed conversions and productivity, while reducing mortality
Back-to-back inlets allow for 18″ or 24″ openings
Insulated galvanized inlet doors
Easy to adjust and install
Flange wall inlet for sandwich panels with high air rate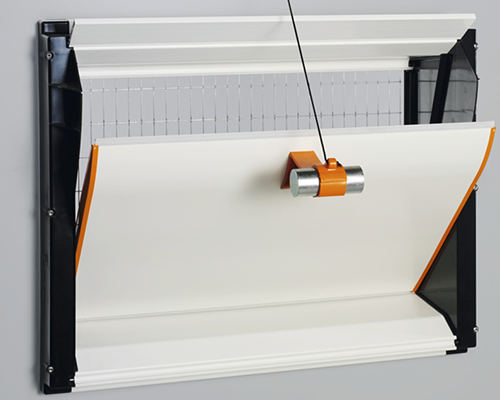 Wall inlet available in a variety of sizes, can be utilized for different structural requirements and air rates
View and download the latest fresh air supply systems and Slot-AIRE product brochures.
Get Started on Your Project
Over the course of 80 years we have designed, tested, developed, and refined egg production equipment to meet every imaginable need. Get in touch with our sales team to discuss your farm requirements today.