Fresh air supply over a large surface
Tunnel ventilation requires large openings in the end or close to the end of the poultry house. The exhaust fans are located at the opposite end of the house. Air is drawn through the openings, down the house, and out the fans, like a wind tunnel. This form of ventilation is popular in hot climates to provide additional summer ventilation, quickly removing heat and excess moisture. A smooth high air speed at bird level of 2 to 3 m/s lowers the temperature perceived by the birds (wind-chill factor). In winter or when tunnel ventilation is not required, the large insulated inlet flaps close reliably to prevent temperature loss.
These large tunnel openings have a modular design. The length of the door opening is customized for each barn based on tunnel length and required ventilation capacity.
Strong door with high degree of insulation
The aluminum frame and enhanced rubber sealing lip guarantee airtight closing of the door
With Big Dutchman CombiTunnel ventilation, the smooth, continuous control of the tunnel doors permit the a lower number of fresh air inlets
High quality system components ensure low maintenance
Big Dutchman's CombiTunnel ventilation is a strategic combination of wall inlets and tunnel doors. This ensures steady control of climate and environmental conditions for your birds. CombiTunnel ventilation works best in regions that have large fluctuations in temperature (hot humid summers and cool winters).
Side mode uses wall inlets during cooler weather, while tunnel mode kicks in during hot sticky periods. You can control both systems with ViperTouch, which automatically switches between the two ventilation systems as needed.
View and download the latest fresh air supply systems product brochure, and also check out our brochure on combi-tunnel ventilation.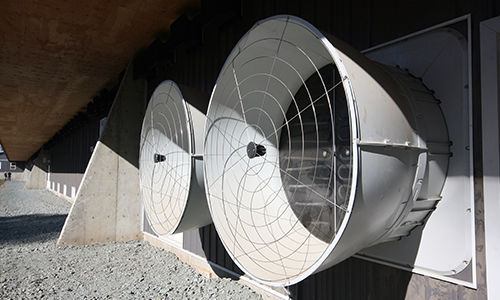 AirMaster fans are the next generation of poultry house fans. They have a unique combination of characteristics that provide significant advantages for customers in terms of profitability in climate control – including high air performance, minimum energy consumption, optimized aerodynamic design and resistance against corrosion.
Get Started on Your Project
Over the course of 80 years we have designed, tested, developed, and refined egg production equipment to meet every imaginable need. Get in touch with our sales team to discuss your farm requirements today.