Advanced electronic sow feeding for sows in group housing
The CallMatic 3 Pro is Big Dutchman's most advanced ESF system. It has been developed using our 30 years of experience with feeding group-housed sows. This system allows for two different types of dry feed or can be used with liquid feeding. The system's modular design allows adaptation to many different configurations, easily fitting into most spaces.
Multiple feeding options, two kinds of dry feed, or liquid feeding
Station computer with display for easy management
Selection gate for sorting
Color markers (up to 3)
Heat detection optional
Manual control unit at the feeding station
Mobile application
Delivered pre-assembled
The station computer can be positioned at the ESF station or in the aisle for easy accessibility, making adjustments to each station hassle-free. The computer has a clearly arranged display that shows important information such as the status of the sow, daily rations, the remaining feed, or the number of sows which have eaten that day. It operates independently from the central computer in the office for high functioning reliability.
Manage Easier with BigFarmNet
BigFarmNet is a state-of-the-art farm management software solution. It allows the farm manager to collect data continuously and to control and monitor all ESF stations in real time. The software's modular design makes it possible to control an unlimited number of feeding stations and to connect additional systems such as heat detection, for example, without the need for further control elements. All the data from individual houses is displayed in graphical format. The advantages of using BigFarmNet are as follows: 
Control practically an unlimited number of ESF stations
Settings for all stations can be managed from a PC, tablet or mobile device
Adjust diets on the spot and monitor sow health
View and download the latest CallMatic 3 Pro product brochure.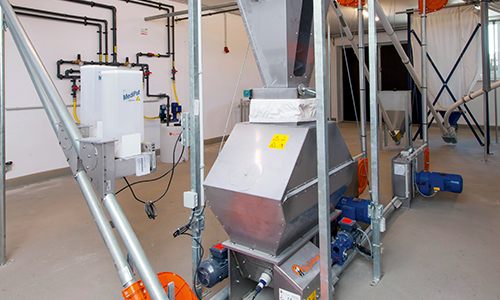 DryExact Pro is a computer controlled feeding system which employs a weighed batch mixer to blend and deliver individual feed recipes for every feed valve (trough or feeder). This technology along with the capability of feeding two loops simultaneously with highest accuracy opens the door to sophisticated precision multi-phase feeding.
Let a Local Distributor Advise You
Big Dutchman has a trusted network of pig distributors who are ready to work with you on your project. To get started, locate a distributor near you.