ViperTouch
Complete climate and production control for your poultry house at your finger tips
---
Viper Touch can be used to control the entire environment of your barn and it can also be used as full production and management computer
Important functions for climate control:
Intake / exhaust air control- Minimum side ventilation, tunnel and transitional ventilation
Connection of 8 temperature sensors
Control heating in up to three growing zones
Minimum ventilation with cycle timer and rotate fans
Control of both pad cooling and foggers
Temperature-controlled emergency opening function
Connect auxiliary sensors, such as NH3 or CO2 sensors
Curves for temperature, humidity, tunnel start, maximum ventilation and minimum ventilation timer
Important functions for production control:
Feed consumption, feeding programs, bin weighing
Water meter
Light control, light intensity
Bird weighing
Bird management, such as mortality
Features:
Simple operation via touch screen
Ideal climate and production computer for broilers, broiler breeders, turkeys, layers and ducks
Adjustable operating modes: Basic, Flex or Profi Mode (depending on individual requirements)
Password protection on 3 different levels
Speaks 16 languages – including yours
Customize your home screen
Integrated network interface
Save data and settings
Simple alarm management
Compatible with BigFarmNet-Manager PC program; mobile and web access
A new experience in terms of comfort, speed and performance
The Viper Touch shows all functions on a large graphic display. The symbols used in the main menus allow for easy viewing and navigation. The standard version of Viper Touch includes English and German language. And there are more than 16 additional languages including Spanish, Chinese, Danish, Romanian, Russian and Thai.
USB Flash drives can be used to install software updates as well as storing data and settings. The standard version comes with 22 low power relays. The extension box allows incorporation of 10 to 40 additional relay modules with or without manual control. There are also relay modules available that can be used for direct connection of single-phase fans or motors with up to 30 amp.
Menu examples
User screens
ViperTouch and BigFarmNet Manager
BigFarmNet Manager is a PC program which allows the customer to list and visualize as well as process and control the barn climate and production data from his office PC. It is also possible to make and automatically transfer settings regarding feed, water and light to other houses in the same production mode.
The new broiler module provides for an exact documentation of the course of the batch. Several batches can be compared with each other or reference values concerning feed and water consumption or daily weight gains or losses.
The grower can take advantage of the full performance potential of a flock while saving costs, and achieve consistently good results at a high degree of efficiency.
Advantages at a glance
The software uses simple, easy-to-understand symbols
Quick data overview, both as graphs and as lists
Detailed alarm log, history and analysis
Fast connection to the office PC via LAN Ethernet and wireless networks
Communication with existing computers via BFN-WebLink
Use of standard IT components
Remote access via RDP protocol
Current production data feed conversion broilers

Overview Current Production
FT8SA
24 Hour Timer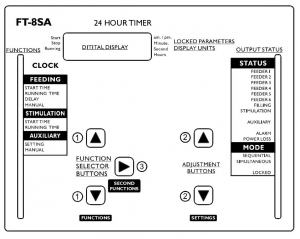 The FT8SA is a 24-hour timer designed for cage layer buildings with up to 6 feeder outputs, 1 filling output and 1 independent clock output. Up to 24 starts and 24 stimulations can be programmed per day. Feeder outputs can be activated sequentially or simultaneously with a user-defined delay between activations.
Additional features include:
Manual one cycle starts
a battery backup for keeping time in case of a power failure
overload and overvoltage protection on the output
115/230 VAC – 50/60Hz power supply
Can be connected to a computer
TC5-8SDA
The TC5-8SDA is an electronic device used for environmental control in livestock buildings. It allows the user to maintain a specified target temperature by controlling the operation of ventilation and heating equipment. Six stages of constant-speed fans or mist units and two stages of either constant-speed fans or heaters can be connected to the controller. In addition, the last cooling stage can be configured as a mist stage.
For more information about BigFarmNet, please also visit our BigFarmNet website.