Climate Control
We have many offerings to control climate within your buildings. From inlets to chimneys, controls and timers, we can help maintain the perfect environment for your birds. 
RainMaker 

– Evaporative Cooling System
RainMaker is a pad cooling system, developed by Big Dutchman, which features an innovative frame system. RainMaker is characterized by its minimum installation requirements and is designed for simple supervision and maintenance.
Inlets – Efficient ventilation
Big Dutchman Air Inlet Systems are designed for efficient circulation and ventilation within cage, breeder and broiler houses.
Fresh Air Chimneys – For negative and balanced pressure ventilation
FAC 2 and Fumus 2 are fresh air chimneys that distribute the fresh air from the roof into the house.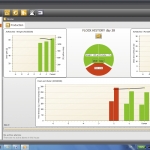 Controls & Computers  –  For management assistance
Big Dutchman's controls and computers offer you assistance controlling every aspect of your barn.