Volume based dispensing of feed
EcoMatic Pro is a computer controlled feeding system that uses volume based feed dispensing geared towards simple, economic multi-phase feeding.
Feed from each feed bin is dispensed into the feed pipe using a frequency controlled auger
Mixing occurs along transport to deliver correct feed recipe to feed valves
No feed kitchen or distribution unit needed
Used for growing / finishers
Can be upgraded to a sensor feeding system
Hoppers can be placed directly beneath the feed bins or located inside the barn
Why Should I Use Multi-Phase Feeding?
Mixing feed daily to optimize diets improves feed conversion, carcass quality and reduces feed costs. Whether you breed or grow pigs, multi-phase feeding is for you. Here's why:
Save 10-15% of feed costs, or $4-$6 per pig!
Increase animal performance
Better feed conversion and carcass quality
Minimize nutrient excretion
Significantly reduce nitrogen and phosphorus excretion
Save on preparing, transporting and storing specialized feeds
Feed precise rations automatically and utilize management tools with Big Dutchman systems
Compatible with BigFarmNet management software, which helps you take control of feeding schedules, feed and animal data, ventilation and more; from anywhere you want
The new generation control and management software, BigFarmNet, provides easy, user-friendly controlling of the system and allows linking all computers on the farm for convenient data sharing and analysis.
View and download the latest EcoMatic Pro and DryRapid product brochures.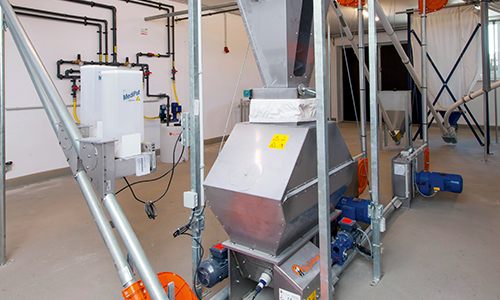 DryExact Pro is a computer controlled feeding system which employs a weighed batch mixer to blend and deliver individual feed recipes for every feed valve (trough or feeder). This technology along with the capability of feeding two loops simultaneously with highest accuracy opens the door to sophisticated precision multi-phase feeding.
Let a Local Distributor Advise You
Big Dutchman has a trusted network of pig distributors who are ready to work with you on your project. To get started, locate a distributor near you.