Customizable auger fill system
The FLEX-vey auger fill system allows a truly custom system to meet specific application needs. With a wide selection of basic components, and our ability to design custom solutions, you can have the most efficient and cost effective system delivering feed to your flocks for years of trouble free operation.
FLEX-vey offers the versatility of using single or tandem bin installations, and can provide single, double or triple systems into the house. Whatever your fill system needs, FLEX-vey offers the right combination for you.
Carry feed from feed tanks to the house, moving up to 17,000 lbs. (7,700 kg) of feed per hour
Single or tandem bin installations and can be built as single or double systems
Customized to meet your needs
High quality and extremely flexible spring steel
Feed can be transported into the house around bends of up to 90° safely, quickly and without feed separation
Universal application for each type of house
Fast and easy assembly
View and download the latest FLEX-vey auger product brochure.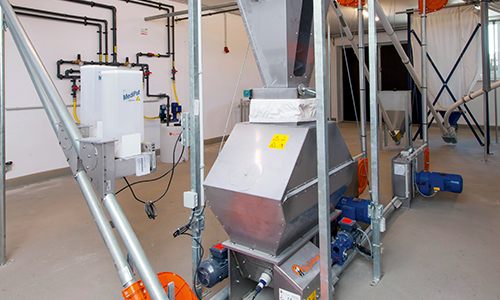 DryExact Pro is a computer controlled feeding system which employs a weighed batch mixer to blend and deliver individual feed recipes for every feed valve (trough or feeder). This technology along with the capability of feeding two loops simultaneously with highest accuracy opens the door to sophisticated precision multi-phase feeding.
Let a Local Distributor Advise You
Big Dutchman has a trusted network of pig distributors who are ready to work with you on your project. To get started, locate a distributor near you.