The versatile and efficient conveying system for dry feed
Wherever dry feed, be it mash, crumbles or pellets, has to be conveyed or distributed on a pig farm, Big Dutchman's DryRapid is the ideal feed transport system from the silo discharge all the way to the feed trough.
This efficient pipe conveying system is available in two models: the DR 850, with a conveying capacity of approximately 1900 lbs/h, or the DR 1500, with a capacity of approximately 3500 lbs/h. DryRapid can be controlled automatically using control unit 103 or with our management and control system BigFarmNet when applied with a DryExact Pro or EcoMatic Pro feeding system.
For large amounts of cereal and feed we can additionally offer the DR 4500 with a conveying capacity of 9920 lbs/h.
Versatile options for using DryRapid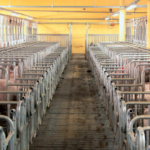 In a nursery or finishing house: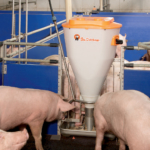 Unique Features:
DryRapid can be installed in many different configurations and is suited for the modernization of old barns
The filling level can be adjusted separately at all feeders by means of a telescopic drop pipe
Available as a computerized feed-system, DryExact
High conveying capacity
Smooth transport of pellets with minimum damage of feed structure
Low maintenance requirements, long service life
Computer-Controlled Dry Feeding with BigFarmNet
With EcoMatic Pro and DryExact Pro, Big Dutchman offers you two computer-controlled dry feeding systems, which ideally comply with the requirements of modern pig feeding. Using BigFarmNet management software, both systems allow you to supply feed at the individual valves, one by volume, and the other by weight. The pneumatic feed valve ensures that every feeder receives the right feed quantity.
EcoMatic Pro
Volume-based feed proportioning
EcoMaticpro supplies the individual feed components based on volume quantities, which means that no mixer is required.
The hoppers can either be placed directly beneath the feed bins (European version) or they can be located inside the barn as we suggest for North America. A flex auger will then transport feed from each bin to the respective hopper. The feed hoppers are equipped with a frequency-controlled auger to then dispense the required amounts of each component into the DryRapid conveying pipe. The final recipe or feed mix is automatically created with each hopper dispensing its component into the feed pipe.
The feed mix is then transported and dispensed in portions by the designated valves.
This computer-controlled dry feeding system operates without a distribution unit and without a feed kitchen and is therefore simple and economic. The individual components have to be metered only once.
DryExact Pro
Weight-based feed dispensing
The DryExact Pro system works with a weighed mixer that has a capacity of approximately 18 gallons. This makes it possible to supply individual diets to each feeder with very high precision (or accuracy).
The system is ideal for multi-phase feeding in nursery and finisher barns and has been installed in a growing number of sow barns, delivering specific feed diets to each individual valve. It has become especially popular as feeding strategy and tool in research barns.
Main components of the DryRapid conveying system
Drive Unit
Compact design, installed inside the barn
Stainless steel casing
Automatic tensioning device
Drive unit XXL available for longer transport distances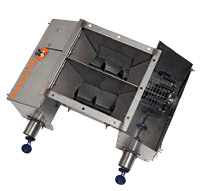 Feed hopper
Made of stainless steel, installed in the barn
Conveying capacity can be adjusted continuously by means of a shut-off
Available with one or two lines to supply two circuits, if necessary
Motor controlled hoppers available
Conveying pipe with conveyor chain
Pipe made of .049″/.059″ galvanized steel with an outside diameter of 1.77″/2.36″
Pipe is also available as a stainless steel version or with a novel Magnelis® coating (a special Zn-Al-Mg alloy offering superb protection against corrosion in environments containing ammonia)
Chain made of specially hardened steel
Pusher discs are made of high-quality plastic material available with the following diameters: 1.18″, 1.37″, 1.65″ and 1.93″
Pusher discs are applied to the chain with a distance of 2.00″/2.36″ so that the chain links remain free with minimum feed residue
Outlet with shut-off
For supply of all types of self-feeders
Made of synthetic materials, with shut-off available in two colors for easy distinction between two feed circuits
Available with rigid or telescopic drop-pipe, transparent version available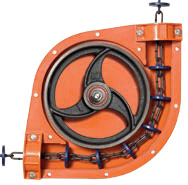 90° corner
The corner housing is available in stainless steel or plastic; a transparent cover is also available
All corners are non-corrosive
Ball-bearing corner wheel made of plastic or cast iron for reduced friction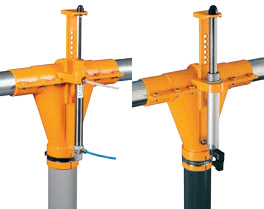 Pneumatic Feed Valve
Necessary when using the computer-controlled dry feeding systems EcoMaticPro and DryExactPro
Feed can be dispensed individually per valve at any self-feeder, either based on volume or based on weight
Available with central or individual control
Feed Drop / Volume Dispenser
Infinite settings for individual feeding of sows
Transparent hopper with a capacity of 8.5 or 11.5 lbs.
Minimum quantity less than 1.5 lbs.
Easy to read adjustment slide
Large lateral openings for easy addition of feed additives and easy cleaning
Clip for data sheet so important information about the sow is within reach
DryRapid 103
On/Off control of dry feeding system; optional timer available
Control of two feed circuits
Control of the small quantity dosing device motor
Release of the volume dispensers
CL 175 for Volume Dispensers
Equipped with a push button for manual release
3 versions depending on power needed
Open between 50 and 150 dispensers at a time
Sensor
Switches the DryRapid off when the last volume dispenser is completed or feeder is filled
Medicator
For precise addition of pulverized feed additives into the dry feed
Diseases in the pig house can be treated immediately and at a low cost
Can easily be retrofitted in existing pipe feeding systems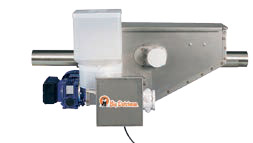 MediPut
Infinite settings for individual feeding of sows
Large dosing range from 0.50 to 20 lbs of additive per ton of feed
Precise metering even in cases of fluctuating flow rates
No dosing in case of an empty silo or feed bridging
Small quantity dosing device
The metering capacity ranges from .88 to 17.6 lbs/h for time dependent dosing