Big Dutchman exhibits at World Pork Expo 2018
Great turn-out, promising connections – and super team spirit
Another year, another great week in Des Moines, Iowa at World Pork Expo, which is North America's largest international exhibition for the pork industry. Big Dutchman presented their latest innovations in pig production equipment with one of the largest booths on site.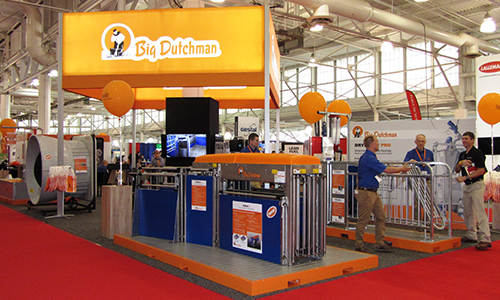 Big Dutchman's eye-catching booth
Giant orange balloons were used on the booth to demonstrate "BigFarmNet Compatibility" of the showcased equipment, presenting opportunities to introduce and explain Big Dutchman's 'all-in-one' farm management software. Other highlighted innovations included a new centrally controlled sow feeder, as well as three way sorting and two solutions for multi-phase feeding.
The 2018 turn-out was exceptionally good: a big crowd and "many enthusiastic attendees with serious intentions to build new farms or upgrade their older feeding and housing systems", Business Development Manager Hans Ulrich commented. "Even a remarkable number of show pig farmers came to the booth to check out BD-Swing, which has become one of North America's most popular farrowing solutions in pig industry."
As in past years, the Iowa show also proved to attract a considerable number of International attendees. So Big Dutchman's large team – including 'Pig team North America' and the Latin American team from the office in Charlotte, NC – kept very busy showing off the newest technologies and helping customers from North and South America find best fitting solutions.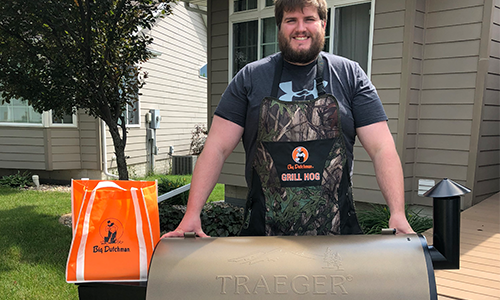 Traeger smoker winner Drew Larson
While newest innovations on the product side were popular, there was another feature on this year's booth that attracted immense attention: a Traeger Texas Elite 34 Wood Fired Pellet Smoker! It was one of the most sought-after raffle items at the show, leaving Big Dutchman with thousands of contacts to follow up with. Congratulations to Andrew Larson, the proud and very happy winner of the smoker.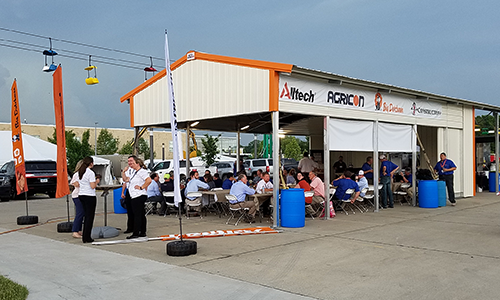 New this year: Agricon's hospitality building
In addition, Big Dutchman's newest partner Agricon, specializing in customized farm buildings, presented a striking demo building on their outdoor show space. This – to the delight of the whole team – also included one of the shows best BBQ meal destinations and free beer. Thank you Agricon and Alltech for your hospitality!
Overall, the Big Dutchman group had an excellent week full of hard work and incredible team spirit. Thank you attendees – we are looking forward to showing again at World Pork Expo 2019!