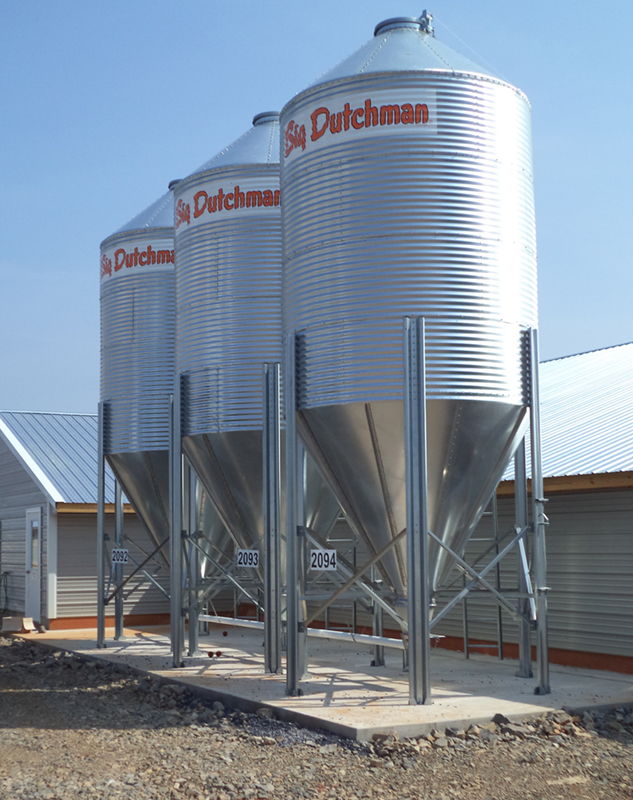 Feed Bins & Conveying
To store and transport your feed
---
Big Dutchman knows that it takes a lot to feed your flock. That's why we offer top of the line products to help you store your feed and easily transport it into your barns.
Feed Storage Bins
For secure feed storage
Big Dutchman feed hopper bins are designed to store flowable, noncorrosive material with 50 pound/cubic foot (800.9 kg/m3) bulk maximum density. The feed bins come in 3 standard sizes of 6, 9 and 12 feet in diameter. Each of the 3 sizes is available in 1 to 4 rings. The 12' bin is also available with 5 or 6 rings.
Unique Features:
G115 Galvanizing:
With a G115 galvanized coating, Big Dutchman bins provide a 28% greater protection and longer life than the market standard G90 bins.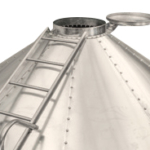 Peak Lid:
A unique lid design opens 180°, keeping it out of the way of potential damage during filling.
Reflective Tape:
Super engineering grade reflective tape at the peak opening allows for easy identification of the fill area at night. Tape is only visible when the lid is open, so the operator not only knows where to fill, but if the lid is open and ready for filling. The weather resistant reflective tape is rated for a 12-year life minimum.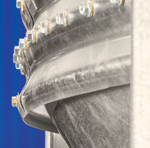 Drip Guard:
Drip edge at bottom of sidewall sheets minimizes potential moisture down the hopper sheets and into the boot area.
Outlet Height:
The clearance under the outlet collar is 33.5" – providing plenty of room for unloader accessories.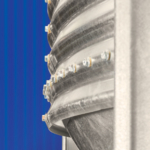 Bin Walls:
All bin wall sheets are of corrugated, galvanized steel with 2.66:" (67.56mm) corrugation. Wall sheets have 1.15 oz. per square foot (350 g/m2) zinc coating (G-115 designation). 2.66" corrugation sheets have 32" (812.8mm) vertical coverage. Horizontal coverage of bin wall sheets is 112.5" (2,856mm) for 6' (1.83m) and 9' (2.74m) bins. All 5/16" bolts are electro-galvanized grade 8.2 with self-sealing injection molded washers. Sealer strip is provided to seal all vertical sidewall seams. Anchor bolts are standard with all feed hopper bins.
Crimp:
Crimp at room follows the contour of the sidewall sheet ensuring protection from the elements.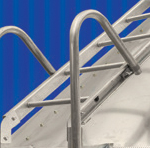 Sturdy Ladder With Handrail:
Ladder brackets have contours that match the corrugation of the sidewall sheets for maximum strength and safety.
Standard Roofs:
All bins have a steep 40° roof slope. A roof ladder from eave to the peak is standard with your bin. Sealer strip is provided for all roof seams.
Safety Cage Kits:
Safety cages for ladders are available for the 9' and 12' bins.
FlexVey
Auger fill system
The FlexVey auger fill system allows a truly custom system to meet specific application needs. With a wide selection of basic components, and our ability to design custom solutions, you can have the most efficient and cost effective system delivering feed to your flocks for years of trouble free operation.
FlexVey offers the versatility of using single or tandem bin installations, and can provide single, double or triple systems into the house.
Whatever your fill system needs, FlexVey offers the right combination for you.
For 16" Opening Bins
Injection molded for smooth feed flow
UV rated plastic for long life
Available in straight or 30 degree styles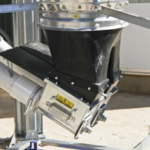 For 22" opening bins
Available in straight or 30 degree styles, single or double out
Allows individual control of each unloader
Available in 200, 300, 350 and 450 models
Hardened steel coreless auger
PVC tube with UV inhibitors specifically designed for all four models
Available in single or double out
Can be used for straight, straight through (tandem) or 30 degree installations
Made of galvanized steel with a UV rated ABS top for long life and weather resistance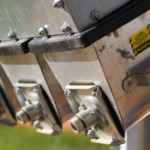 For 22" Opening Bins:
Epoxy coated s:'el
30 degree boot and unloader combination
Large opening to accommodate difficult feed
Available in single or double out styles for 200, 300 and 350
Available in single, double and triple for 450
Fits directly to 22" opening bin
Tru Torq™ Feed Weigh Scales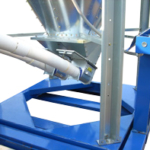 The Tru Torq™ scale employs a unique, patented Torque Bar Suspension mechanism that provides the control needed for accurate and dependable feeding programs.
The Tru Torq scale with manual beam is accurate to within +/- one tenth of one percent and allows for verification of feed delivery weight for daily usage records
The scale will handle capacities up to 10,000 lbs and meets national certification standards and is available in 4 styles:

5,000 lb
10,000lb
2,300 kg
4,600kg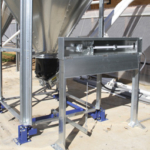 Compatible with all feeder / fill systems:
2,300 lbs
5,000 lbs
10,000 lbs
Able to deliver up to 60,000 lbs of feed per hour
No elbows or universal connectors to wear
Trouble free chain and paddle
Unrestricted feed drops
Recirculated feed