Fresh Air Inlets
Efficient ventilation for cage, breeder, and broiler houses
---
Big Dutchman Air Inlet Systems are designed for efficient circulation and ventilation within cage, breeder and broiler houses.
Depending on structural conditions and special requirements, systems for negative pressure or balanced pressure ventilation can be implemented, using fresh air inlets for installation into the wall or ceiling and/or large air inlets for longitudinal (tunnel) ventilation.
---
Wall Inlets
CL1200, CL1911 and CL2400
---
Big Dutchman Air Inlet Systems are designed for efficient circulation and ventilation within cage, breeder and broiler houses. Our wall inlets are made of shock-proof, recyclable, non-deformable and UV-stabilized plastic and can easily be cleaned with a high-pressure washer. The insulated inlet flap is kept in a closed position by rustproof steel springs, sealing the building airtight.
The inlet flap opens through downward pull, allowing the farmer to precisely regulate the inlet opening in each season. In winter, for example, the cold air from outside enters the building and is immediately mixed with the warm air from inside. This process helps create a more comfortable climate for the birds and can easily be managed with a control set. The air inlets can be controlled individually or all at once.
CL1200

Multi-Purpose wall inlet

CL1911

Flange inlet for sandwich panels with high air rate

CL2400

Fresh Air wall inlet

The CL2400 inlet is available in a variety of sizes, so it can be utilized for different structural requirements and air rates.
Accessories for wall inlets
1. Net guard
The plastic net is fastened to the wall inlet from the outside. It keeps birds and other small animals from entering the barn through the inlet.
2. Air deflector
The air deflector is mounted to the upper edge of the inlet and enables precise direction of the incoming air flow, especially in cold weather. The direction of the air flow can be adjusted individually for each building by changing the angle between the deflector and wall.
3. Light Trap for CL2400
If special light programs are used, it is necessary to completely obscure the house to darken the inside for the dark phase. The light trap can reduce 99.9% of incoming light with only little loss in air performance.
Inlet doors are available in galvanized steel or plastic
Inlets perform well on both side wall and ceiling applications
Provided with locking turn clip
SM insulation with galvanized back frame
R5 insulation

The Perimeter-Aire inlet can be installed for ventilation air entry through the wall or eave. The construction of door frame openings will be necessary before installation.
Slot-Aire Ceiling Inlet
The sensible solution for cage house ventilation
Back-to-back air inlets above cage rows provide even air distribution throughout the house, allowing for better temperature management
Good air distribution improves feed conversions and productivity, while reducing mortality
Back-to-back inlets allow for 18″ or 24″ openings
Insulated galvanized inlet doors
Easy to adjust and install

Tunnel Inlets
MultiVent & TD-L Tunnel Door
---
Tunnel ventilation requires large openings in the end or close to the end of the poultry house. The exhaust fans are located at the opposite end of the house. Air is drawn through the openings, down the house, and out the fans, like a wind tunnel. This form of ventilation is popular in hot climates to provide additional summer ventilation, quickly removing heat and excess moisture. A smooth high air speed at bird level of 2 to 3 m/s lowers the temperature perceived by the birds (wind-chill factor). In winter or when tunnel ventilation is not required, the large insulated inlet flaps close reliably to prevent temperature loss.
Big Dutchman offers various types of large inlets such as:
A variety of MultiVent Shutters
Tunnel door TD-L with rack and pinion drive
MultiVent 17 M
with its large air performance can be used for additional summer ventilation or as inlet for tunnel ventilation. Air flow and air direction can be controlled easily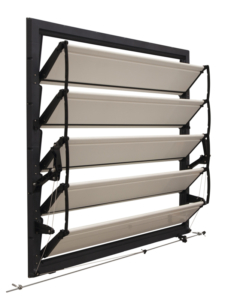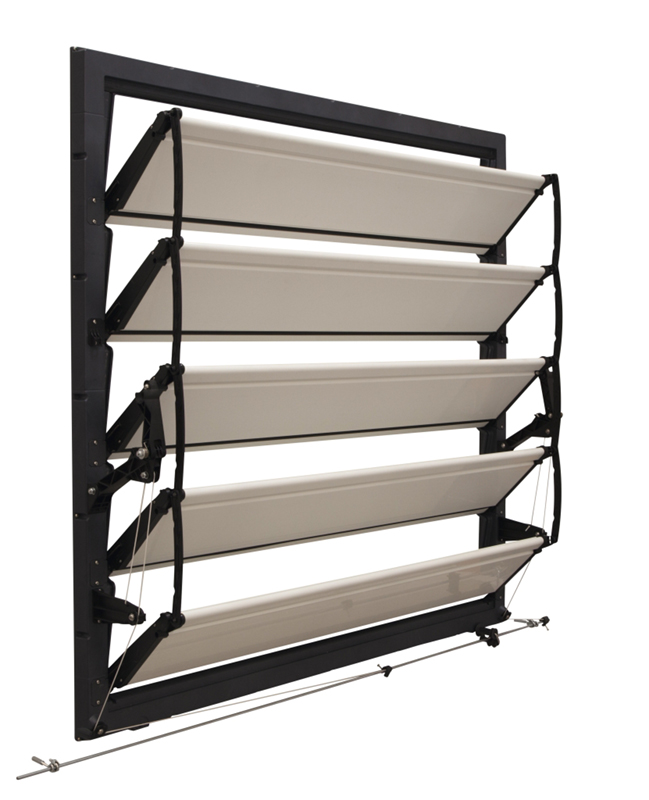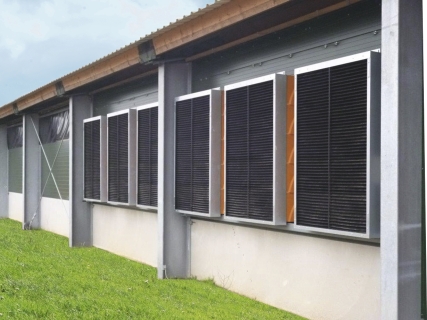 PerforMacs Light Trap
The PerforMacs light trap (for all MultiVent types) has been designed for optimum aerodynamics, reducing air performance by no more than 10% percent.
The light trap segments are made of plastic which makes them extremely durable and easy to clean.
TD-L Tunnel door with rack and pinion drive
These large tunnel openings have a modular design consisting of a starter kit, extension kit, drive unit and other accessories. The length of the door opening is customized for each barn based on tunnel length and required ventilation capacity.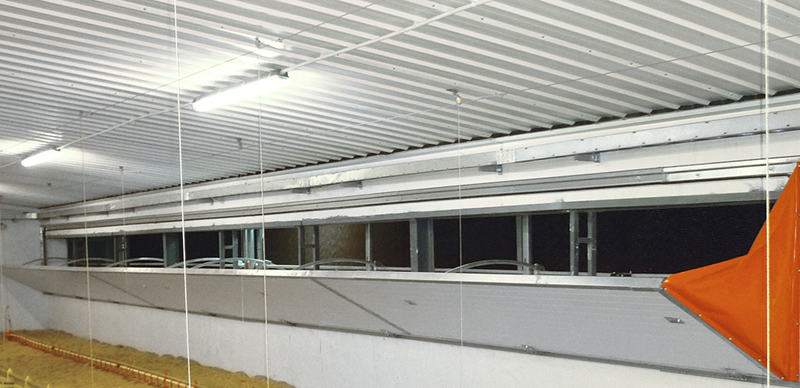 The tunnel door with a 60 degree opening to the inside.
Best suited for broiler and breeder barns – with or without pad cooling.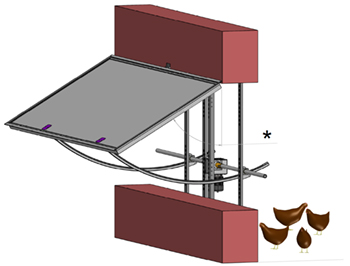 The tunnel door opening to the outside can be applied in poultry barns with floor housing and with cages and aviaries as long as the inside aisle is wide enough to allow the rods to move inwards when closing. A pad cooling system cannot be combined with this version
Advantages of tunnel door system:
strong door with high degree of insulation
the aluminum frame and enhanced rubber sealing lip guarantee airtight closing of the door
with Big Dutchman CombiTunnel ventilation, the smooth, continuous control of the tunnel doors permit the a lower number of fresh air inlets
high quality system components ensure low maintenance
What is CombiTunnel Ventilation?
Big Dutchman's CombiTunnel Ventilation is a strategic combination of wall inlets and tunnel doors. This ensures steady control of climate and environment conditions for your birds.
CombiTunnel Ventilation works best in regions that have large fluctuations in temperature (hot humid summers, and cool winters).
Side mode uses wall inlets during cooler weather, while tunnel mode kicks in during hot sticky periods.
ViperTouch controls both systems and automatically switches between the two ventilation systems.