An ideal temperature in every poultry house
Ensuring proper temperature among your barns, ensures that your animals do not waste energy regulating their body temperatures. This leads to better growth efficiency and a more successful return. Big Dutchman offers many options for heating barns precisely and to your greatest advantage.
SOLaire™ High Performance Brooders
Features:
Corrosion resistant stainless steel components
Simple and quick installation design
Durable one-piece spun canopy
Dependable one-piece radiant
Reliable thermostatic control, placed to give maximum temperature control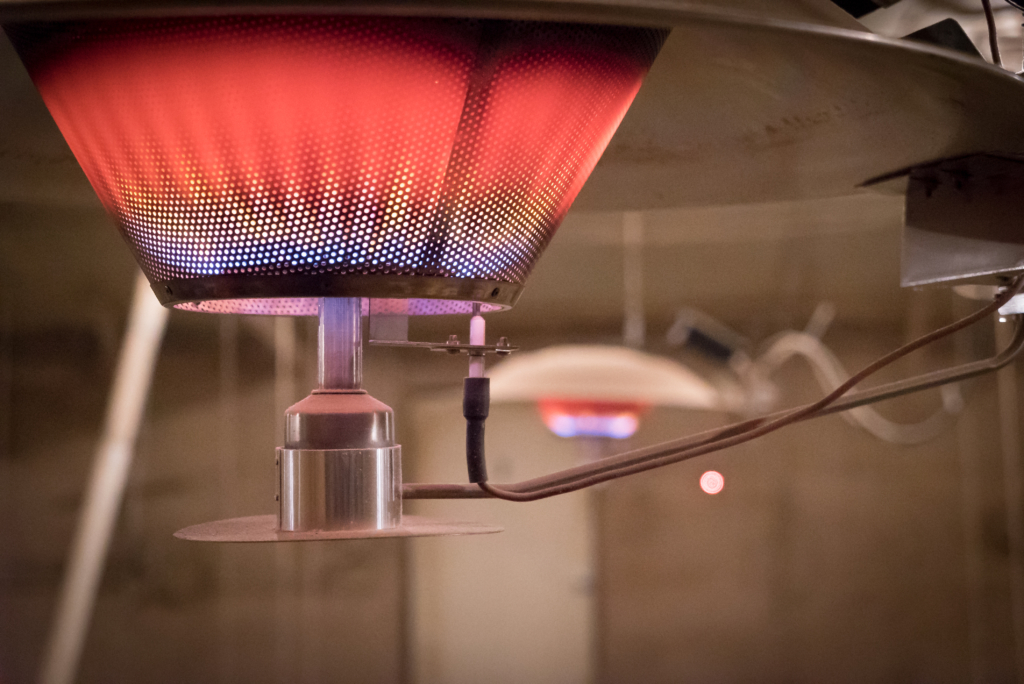 Advantages
Optional zone control system
A power pack is available to provide automated battery back-up. Zone Control is available with SOLaire™ single-jet or infrared brooders.  The optional Zone Control System (24V AC/12V DC) electronically controls a group of brooders using one thermostat.
Direct spark ignition system
Direct spark ignition eliminates standing pilots and provides electronic control of a group of brooders.  Direct spark ignition is available on single-jet and infrared brooder models.  The system requires a transformer.
Simple to use and easy to clean
Assembling a SOLaire™ brooder requires only a wrench and a screwdriver.  The simplified control mounting eliminates bulky clips or wires, and the DSI box is sealed to allow for more protection and thorough wash-downs.
SOLaire™ Single-jet Brooder
Features:
Modulating thermostat
Zone control
Direct spark ignition
Independent thermostat
Performance Data & Specifications:
30,000 Btu (7,560 kcal/hr)
46" (116.8 cm) or 34" (86.36 cm) canopy
SOLaire™ Single-jet Brooder
Features:
Modulating thermostat
Independent thermostat
Zone control
Direct spark ignition
Performance Data & Specifications:
40,000 Btu (10,080 kcal/hr)
35" (890 mm) canopy
19° Angle optimized reflector angle:
Better radiant throw
Less convective wash
Higher radiant output and more fuel efficient
Faster to put heat on the floor
Low clearances to combustibles above
Unique U-bend reflector directs more heat from the end of the tube
Heat Pattern
Even temperature distribution
Allows birds warm access to food and water
4" Diameter tubes create large radiant surface to emit heat to the outside wall
Bigger footprint than other competitive units
Advantages at a glance:
Up to 150,000 btu radiant tube heaters with aluminized reflectors
30 ft. to 50 ft. lengths available
Zone control
Push through and Pull through models available
Push through models available in single and two stage
Calorized steel tubing
Direct Spark Ignition (DSI)
Cast burner
Controlled flame shape in tube
Vaporization of moisture from inside tube
Secured hanging brackets to the tube
Available in natural or propane gas