Bird Scales for Broilers & Turkeys
Continuous weighing of birds
---
Weighing broilers on a regular daily basis is a valuable tool for economic success. It provides you with the necessary data to monitor the growth process of your flock. You will be able to detect irregular growth at a much earlier stage and can react quickly by adapting feeding and ventilation or check health status more closely.
Swing 20
Poultry scale for broilers and broiler breeder production
Swing 20 can be used for weights up to 20 kg. It consists of a laminated, waterproof weighing platform and the load cell.The platform is suspended from the barn ceiling. It can easily be adjusted in height and thus be adapted to the age of the birds by means of a telescopic suspension.
The scale is well accepted by the birds ensuring an abundant number of weight recordings which in turn lead to a precise determination of the average bird weight of the flock.
The scale can easily be taken down for cleaning while the actual weighing electronics remain installed near the ceiling where they are protected against dirt.
Swing 70
Poultry scale for turkey production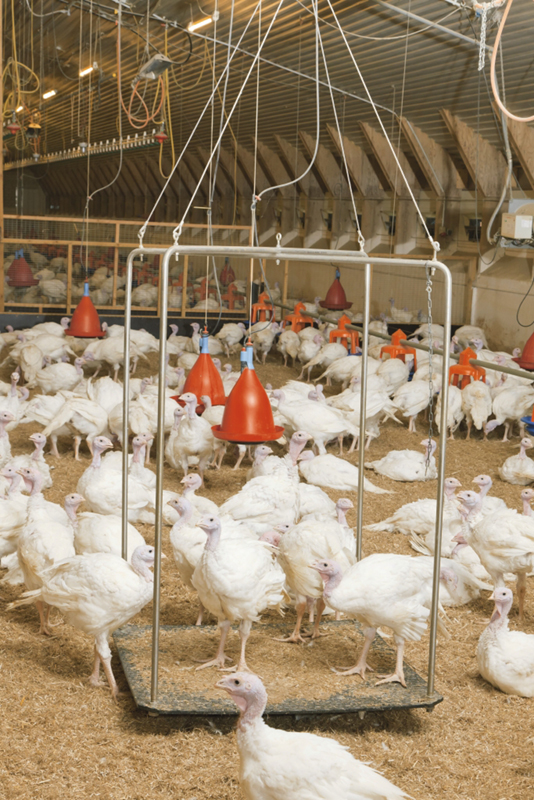 Swing70 is designed for weights up to 70 kg. It consists of a 3.3 x 3.3 foot (1x1m) square plastic platform which is fixed to two stainless steel brackets. It is suspended by 4 ropes that are connected to the load cell. The high suspension points minimize swinging of the scale and ensure that birds step onto scale often and without fear. This leads to many weight recordings and precise determination of average daily weights.
Swing70 weighing system includes a winch to allow for easy height adjustment of the scale based on the age of the birds. Cleaning the scale is simple by unsnapping it from the suspension ropes and using a power washer.
Weighing Computers
---
Viper Touch
Central control with Viper Touch as Production Computer
With the extension module "full broiler functionality" or "full breeder functionality", ViperTouch not only controls complete poultry climate functions, but becomes a full production and management computer.
You are able to connect up to 12 SWING bird scales to record daily bird weights
ComScale
Weighing computer for use in poultry production
ComScaleis a stand-alone weighing computer which can either be installed as stationary unit in the service room or it can be used as a battery-powered mobile version.
ComScale can be connected to Swing 20 (broiler weighing), Swing 70 (turkey weighing) as well as to Incas 2 poultry scales.
All recorded individual weight recordings can be viewed at the weighing computer itself or they can be transferred to a PC to be analyzed in graphical and tabular form with the respective software (optional).
An automatic comparison with a pre-defined set curve helps to detect any deviations. The computer is also available as GSM version with the advantage of being able to regularly transfer data to a PC via GSM modem (wireless) or as text message to a mobile phone.
The following data are recorded:
daily average weight
number of weighings per day
daily weight gain
standard deviation (g), coefficient of variation (%) – states the deviation of the measured weights from the average value
uniformity
automatic update of the average weight.
FlexScale
Manual mobile poultry scale
FlexScale is a battery-powered, portable and very user-friendly weighing computer which automatically records manual weight recordings.
FlexScale has a concise display, a large memory and a long battery life.
Data are saved in pre-defined groups. A group may consist of a house or a defined area within the house. The measuring results can be transferred to a PC where they can be further analyzed in growth curves and statistics.
With an optional battery powered printer, you are able to print the weight recordings directly from the FlexScale.
The set includes a simple weighing hook, a battery charger and the carrying case. Optional weighing hooks are available.
Two versions of FlexScale are available: for 65 lbs (30kg) and for 110lbs (50kg).