Rooster chain feeding makes its way into the broiler breeder market
Big Dutchman introduces new innovative way to feed roosters
The management of broiler breeders is very challenging. Breeders are very sensitive birds, especially regarding feeding. Even small errors can have a negative effect on hatching egg production. The most important factor in broiler breeder management is therefore that roosters and hens are fed according to their needs, i.e. strictly separately. Breeder managers also need to guarantee that the males do not eat the hens' feed and that the hens cannot reach the roosters' feed, either. Big Dutchman can offer various solutions for this problem.
The newest product in the portfolio is MaleChain. This innovation is the world's first chain feeding system for separate male feeding where the entire chain loop requires just one trough. 
"With the double loop, breeder managers save lots of space in the barn," Big Dutchman product manager Jennifer Lindel says about the central feature of MaleChain. She adds that "MaleChain is ideal for males with untrimmed beaks since the feed chain promotes natural smoothing of the beak." A patent for the innovation is pending.
Another benefit of MaleChain is that all birds receive their feed very quickly and – even more important – very uniformly. This is because the chain conveys the feed in two directions. The chain speed also plays an important role, traveling 60 feet per minute. The feed therefore reaches its destinations nearly simultaneously all over the barn. This has a positive effect on the males: they experience less stress during eating.
Linear trough with 180˚ corner design saves space and is simple to install
Uniformity and selection process is simplified – males stand side by side, in line during feeding
Open trough allowing easy cleaning and maintenance – ABF friendly
Feeding height can be easily adjusted to meet your requirements
The system can be mounted very flexibly, with standing and suspended versions available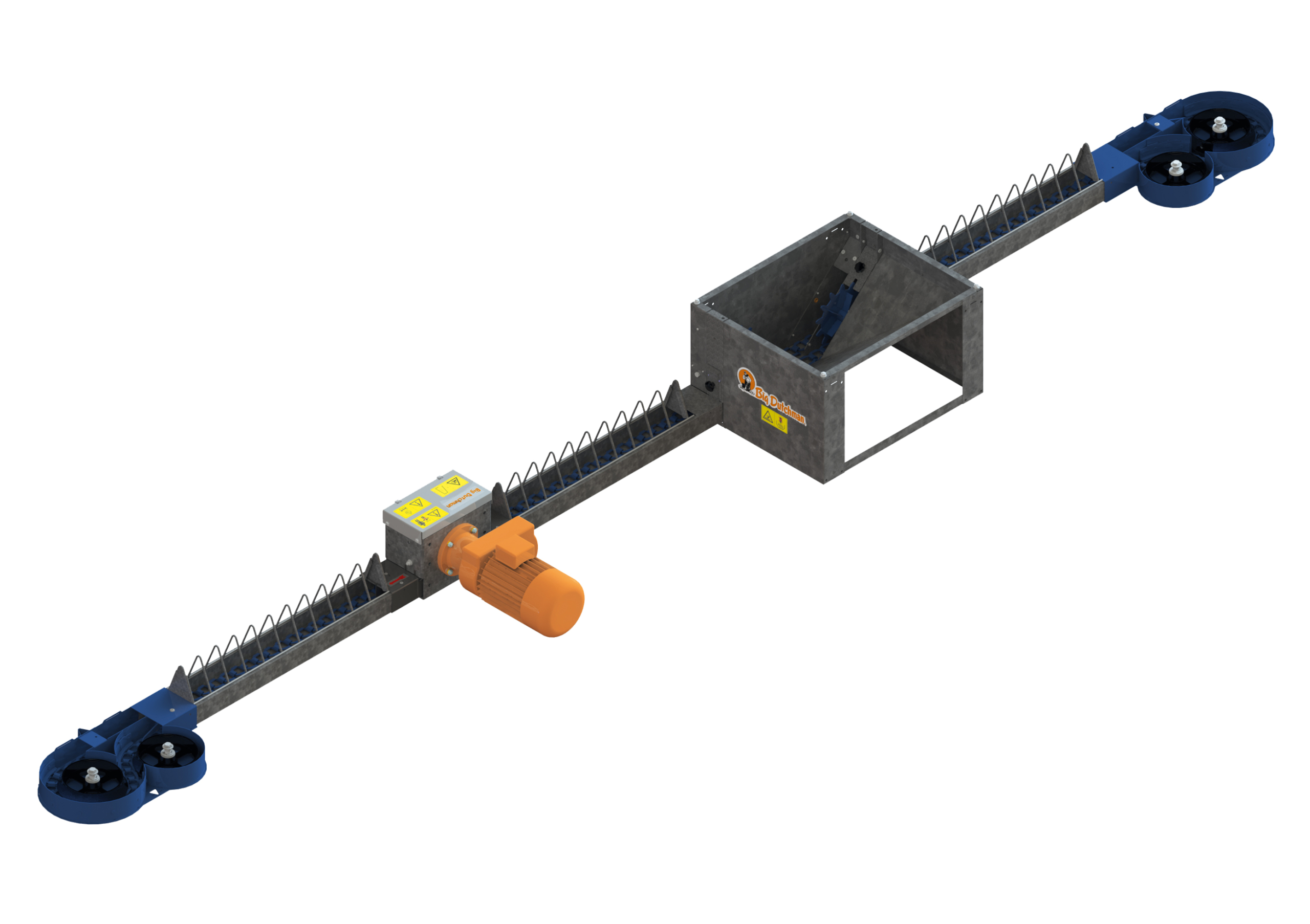 The MaleChain system utilizes the same proven chain design used for feeding female breeder hens, the Challenger transport chain: a classic Big Dutchman product for broiler breeder management. The feed chain has proven its worth over many years as core part of the ReproMatic feeding system, a pan feeding system designed exclusively for breeders. This combination of chain and pan feeding system serves poultry managers well, during both rearing and hatching egg production.