Fresh Air Inlets
Ventilation solutions for every type of pig house
---
CL 1200 and CL 1211 F
For stable high-velocity ventilation
---
The wall inlets of the CL series are made of shock-proof, recyclable, non-deformable, UV-stabilized plastic and can easily be cleaned with a high-pressure cleaner. The insulated inlet flap is kept in a close position by rustproof steel springs, sealing the building airtight. The inlet flap is pulled open allowing the farmer to precisely regulate the inlet opening in each season. For example, in winter, the cool air from outside enters the barn, combining with the warm inside air. This process helps to create a more comfortable climate for the animals and can be easily managed with a control set. This control set opens the fresh air inlets either all at once, or individually.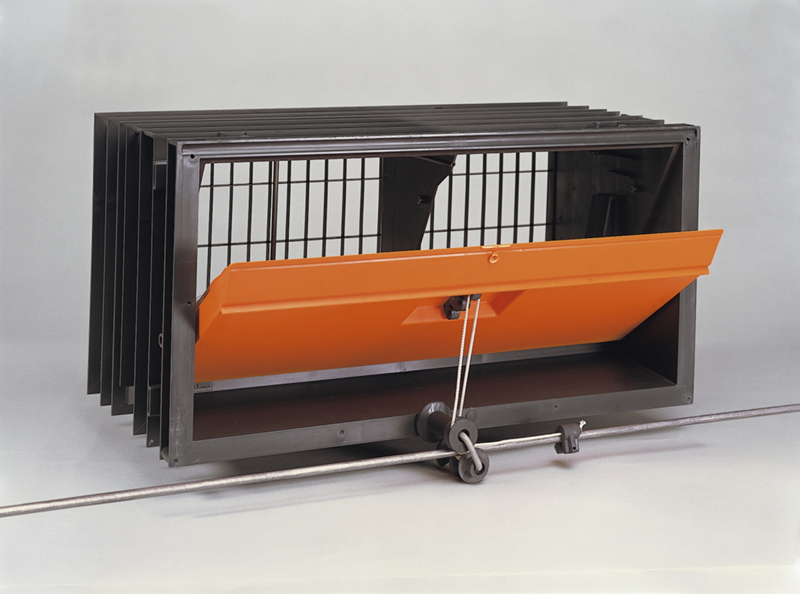 CL-1200
Multi-purpose wall inlet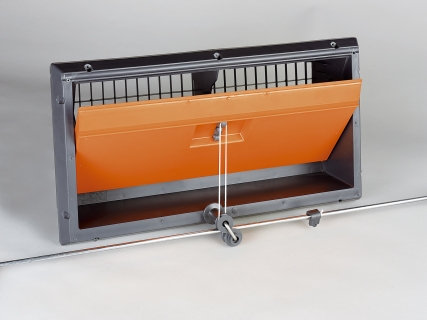 CL 1211 F
Flange inlet for sandwich panels
Due to the patented advanced inlet control (AIC), a single action at each inlet pre-defines which inlets open first and which open later. If the number of opened inlets is reduced, especially during the cold season or while heating is necessary, the remaining inlets can be opened further, which makes for a more stable airflow.
Accessories for CL 1200 and CL 1211 F
1. Self-supporting net
The plastic net is fastened to the wall inlet from the outside. It keeps birds and other small animals from entering the barn through the inlet.
2. Air deflector
The air deflector is mounted to the upper edge of the inlet and enables precise direction of the incoming air flow, especially in cold weather. The direction of the air flow can be adjusted individually for each building by changing the angle between the deflector and wall.
3. Spacer
Spacers are used when tension rods have to be guided around posts along the house wall. The maximum distance to the wall is 9.4 inches (one spacer per inlet)
Fresh air inlets for the ceiling and combi-diffuse ventilation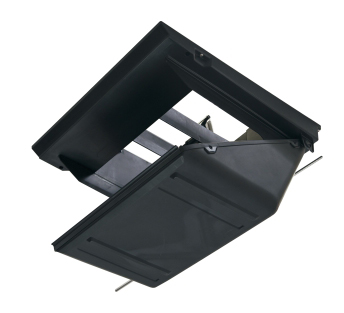 The CL 1540 is a multi-purpose ceiling inlet. The materials of this inlet are made of recyclable, chock-proof, non-deformable and UV-stabilized plastic. Rustproof steel springs keep the insulated inlet flap closed.
The inlet flap opens in a downward motion, helping create a forward-moving airflow in the direction the flap is facing. The air always flows along the ceiling, whether the inlet is opened fully or only slightly. This is done to avoid draughts in the animal area. The corresponding control set opens the ceiling inlets either at once or individually.
If a ceiling has a thickness of more that 4.3 inches, and/or to enhance the performance of the ceiling inlets, an optional intake funnel is available. The 1540, specifically, can be used for fresh air supply from the attic or for combi-diffuse ventilation.
Double LL Two Way Ceiling Inlet
Precise control of minimum and maximum ventilation
Totally insulated housing
PVC lids are insulated and fulling encapsulated meaning no exposed insulation
Approximate 3,107 cfm @ 0.10"SP
Farmed opening: 29" x 24.75"