RainMaker
Evaporative Cooling System
---
RainMaker is a pad cooling system, developed by Big Dutchman, which features an innovative frame system. RainMaker is characterized by its minimum installation requirements and is designed for simple supervision and maintenance.
The cooling system works on the basis of evaporation and is best used in climate regions with hot, dry summers. The higher the temperatures and the lower the relative humidity, the higher the resulting cooling effect. The pads that are used consist of a special cellulose material with a large specific surface to ensure a high cooling performance. A chemical impregnation protects the pads from atmospheric influence. Alternatively, we also offer plastic pads which offer a longer service life.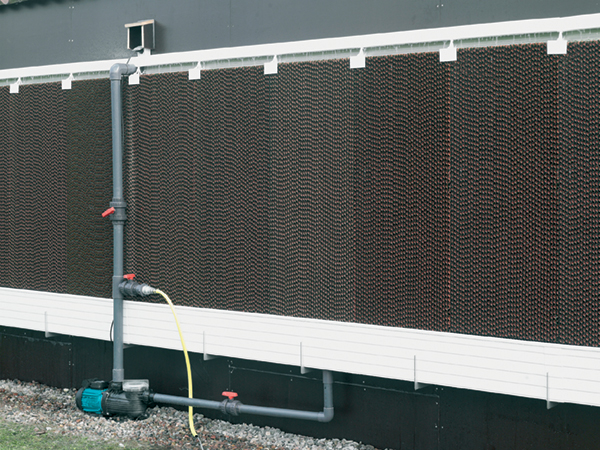 ---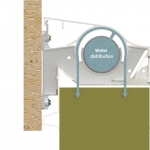 Easy installation and maintenance
No need to remove parts for cleaning
Simply release deflector and detach retainer to remove pads
Sizable reservoir maintains water supply even in extreme climates
Wide 2" distribution pipe provides water evenly
Superior cooling technology
Cooling pad made from durable plastic mesh
Immense surface generates high cooling efficiency
Lower pressure drop than comparable cellulose pads
Optimized for hygiene, you can use high-pressure cleaners to wash off dirt and deposits
UV Resistant
Recyclable
SPECIFICATIONS:
Standard pads are 6″ thick, 23 1/2″ wide,
Different lengths available (3′, 4′, 5′, 6′, 7′ and 10′, other sizes are available upon request)
Operating range from -4°F to 176°F.
Innovative frame system with top profile and pad retainer
The core of this new frame system is the top profile, the complete upper part of the frame, which is made of one piece.
Designed as an open system, that means the water supply is always visible, there is no closed space available to serve as a nesting place for rodents or other species
The perforated pipe, which is integrated into the top profile, distributes water down the pads and is visible to the operator so that any dirt and obstructions in the holes can immediately be recognized
A special deflector ensures that water is evenly spread along the pads to ensure an ideal wetting of the pads
the deflector is connected to the top profile by means of a plastic hinge which can easily be folded up for maintenance purposes with no tools or any parts to remove
The top profile is simply snapped into the pre-mounted wall brackets to allow for a simple assembly
The pads can be released without much effort, and easily relocated