HydroMix
Liquid feeding system
For over 30 years HydroMix systems have been operating all over the world, on both large and small farm operations. This flexible, modular system is suitable for finishers, sows and piglets, and is available with a variety of different system concepts. Each liquid feeding system can be customized to best fit your individual requirements. Intelligent sensor feeding with BIOcontrol, based on a pig's appetite, ensures maximum but controlled feed intake, improving daily gain and feed efficiency. HydroMix operates using easy controls and user-friendly management software.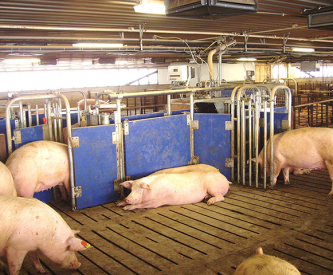 Unique Advantages
Utilize inexpensive coproducts to significantly reduce feed costs
Fast payback through higher profits
Convenient pipeline system is adaptable to any building layout
TwinSpin piping with double spiral inside the pipe keeps feed mixes from separating
Intelligent sensor feeding, with BIOcontrol and LevelCheck, ensures maximum but controlled feed intake, improving daily gain and feed efficiency
Measures feed consumption for exact cost analysis
Reduces labor
Minimizes dust and improves air quality
Hogs prefer liquid feed – intake and growth performance are increased when compared to dry feeding
Proven technology – used all over the world for more than 35 years
Applications for HydroMix
HydroMix will feed all your hogs – sows, piglets, and grower/finishers.
For piglets – with sensor
For growers and finishers
For sows in breeding barn
For lactating sows (farrowing)
Basic components of a liquid feeding system
Mixing tank with agitator
Electronic tank weighing
Feed pump
Feed line with start and end valve
Feed valves
Computer control
Compressor
1.
Mixing Tank
The mixing and/or feeding tanks are made of acid resistant glass-fiber reinforced plastic (GRP) or stainless steel. A wide range of shapes and sizes are available from 300l. to 10,000l. A stainless steel agitator in the tank ensures that all feed ingredients are well mixed.
Fully automatic tank cleaning technology in each mixing and rinse water tank have specially designed spray nozzles and rotating cleaning heads to ensure thorough cleaning after each feeding. In addition, the tanks can be treated with acid several times a day. A special acid fogging nozzle operated with compressed air is used to fog the acid solution, a method which prevents the buildup of biofilm inside the tank.
2. 
Electronic weighing
The mixing tank and rinse water tanks are equipped with a precise electronic 3- or 4-point weighing system which is needed to add the exact feed component portions while preparing feed mixes and again to distribute precise feed rations to each pen or individual animal.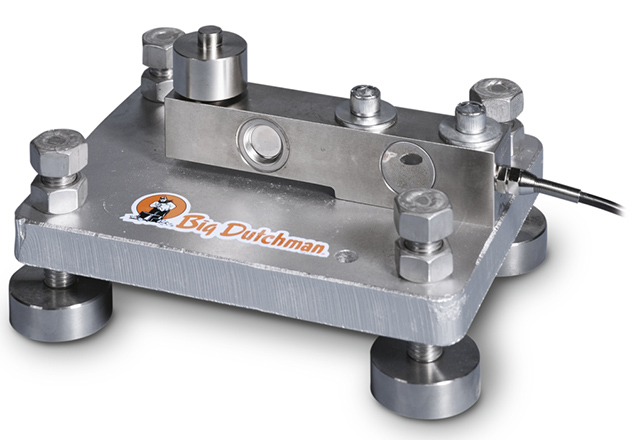 3. 
Feed Pumps
Big Dutchman will make sure, your feeding system is equipped with the best type of pump for accurate and reliable transport of feed to each trough. We recommend centrifugal and positive displacement pumps depending on various system and feed factors.
4. 
Tubing and TwinSpin
Besides standard, acid-resistant plastic tubing of variable diameters, we also offer TwinSpin, a Big Dutchman innovation which guarantees that feed mixes are transported safely to the farthest troughs – without sedimentation or separation of components.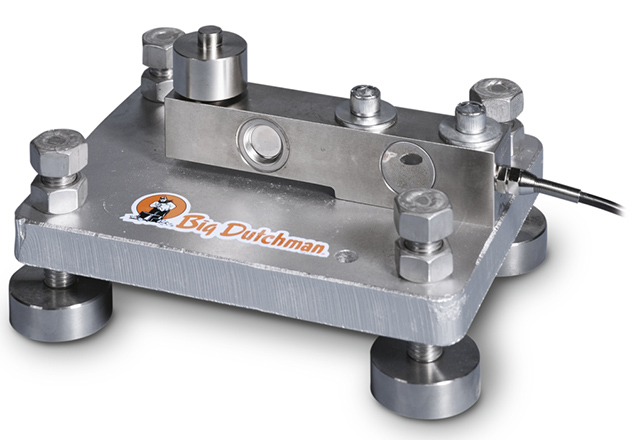 5. 
Feed Valves
Big Dutchman works with a variety of feed valves depending on the system and concept
Feed valves with or without solenoid valves, most common for ring lines
Feed valves for JET lines, where a JET (separator) is used to force feed through pipe branches
3-way T ball valves are used for feeding baby piglets and utilizing high conveying pressures
6. 
Computer Control
HydroMix stands for precision hog feeding. The control software runs on virtually any PC and is the same for sows, piglets and finishers – so you can run all barns with the same software solution
Advantages:
User-friendly
Well-balanced feeding by using specific feed curves
Monitor each animal or group of animals
Individual valve monitoring with automatic correction
Comparison of target feed quantity with actual quantity fed
Remote control with data transfer, data backup and alarms to your mobile devices
System control on any distance (via internet)
More Big Dutchman features and accessories
Level Check sensor feeding
This smart sensor feeding technology uses a unique sensor rod and very little air pressure to determine the exact content level of each feed trough. This allows for appetite related feeding based on a feed curve and pigs can be supplied with more frequent portions of fresh feed. This system improves space utilization by allowing a 3:1 animal to feeding place ratio.
Hydromix has many options
When planning a liquid feeding system, many farm specifics and individual demands must be considered to choose the best type of system and strategy. Big Dutchman has developed many different system types for various applications. Some of the basic differences are:
Using circuits or branch lines
Water or air to transport feed
Restricted or sensor feeding
Standard or residue-free feeding
One or Two tank system
Some examples of HydroMix systems with different feeding strategies are shown below.
1. 
Standard feeding (non residue-free)
Feed remains in pipes between feedings. Uses only 1 feed mix per feed line. For feed circuits or stub lines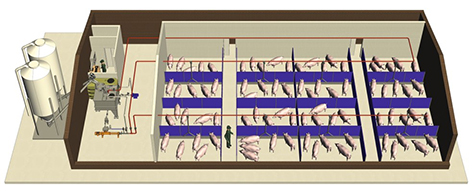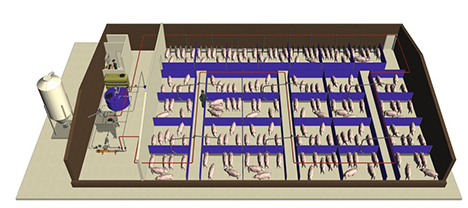 2. 
Residue-free feeding using a rinse water tank
Pipes are rinsed after each feeding. Multiple feed mixes can be fed per circuit
3. 
Two tank system – two mixing tanks and one rinse water tank
The two tanks can mix and feed simultaneously cutting down feeding time in large facilities. This method can be used for feed circuits or stub lines.