Exhaust Air
For efficient exhaust air removal in pig production
---
Big Dutchman offers an extensive product line of exhaust air chimneys and corresponding built-in fans for optimal exhaust air removal. Thanks to the flow-optimized chimneys, the air rate of the fans is increased and the power consumption is reduced by up to 20%. The Ziehl Abegg fans, which are well-adapted to our chimneys, are high quality, corrosion free, winter proof and have low energy requirements.
We offer both standard fans (FC) and sickle shaped blades (FE). These are even more pressure resistant, operate at a low noise level, and have die-cast blades.
Big Dutchman recommends installing three-phase fans. These are very pressure resistant and much more efficient.
---
CL 600
The Original
Diffuser increases the exhaust air rate (Venturi effect)
Rain run-off
Roof duct for the connection between cone and roof sheet
Labyrinth seal prevents water from entering through the roof
Built-in fan for optimal house ventilation
Roof sheet available with different profiles
Exhaust air duct extendable
Butterfly damper closes off the chimney and reduces the air flow in a speed controlled system
Suction head specially designed for higher air rates
The flexible combination of the individual components of the chimney makes it possible to fulfill different requirements:
Color selection: light gray or red brown
Light-proof: if light plate or light pan are used
Exhaust air extension duct 1.64′ (0.5m)
Installation of rain cowl instead of a diffuser, fitted to the roof duct
Duct extension for the roof sheet (above roof) of 3.28′ (1.0m)
Pipes in the roof space can simply be heat-insulated with additional insulation
---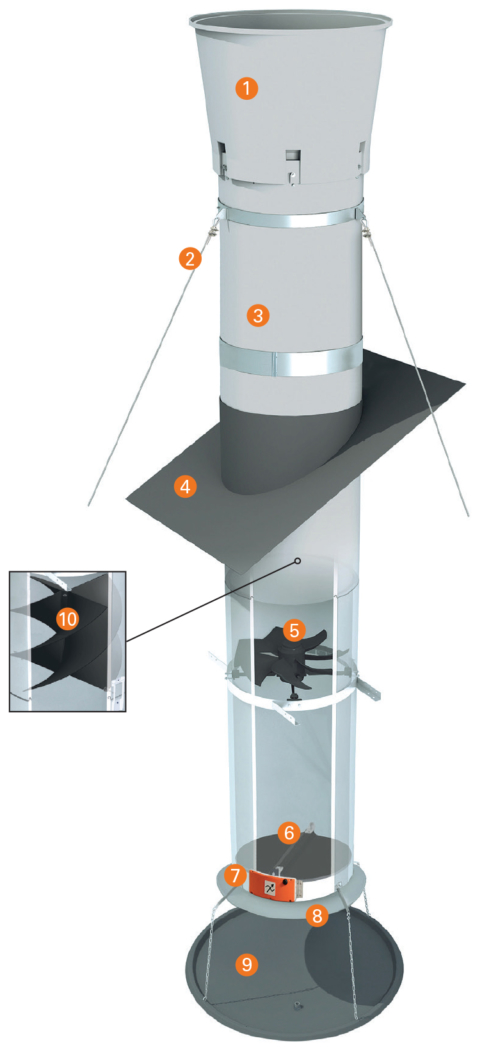 BDexhaust air chimneys VC
Large selection of cross sections
Diffuser increases the exhaust air rate (Venturi effect)
Storm bracing
Exhaust pipe with 3.28′ or 4.92′ (1.0 or 1.5m) lenth
Roof plate
Built-in fan
Damper
Servomotor CL74
Aspirating mouth
Drip plate
Light shield
The flexible combination of individual components of the chimney make it possible to fulfill different requirements:
Available colors: light gray or dark brown
Chimney closure: pivoting damper or cover flap
Chimney tube available as half shell or full tube
Chimney extension 3.28′ or 4.92′ (1.0 or 1.5m)
Chimney suspension: with anchor for houses without intermediate ceiling, with anchor ring for houses with intermediate ceiling
Light shield made of high-quality plastic: reduces infiltration of daylight at minimal pressure loss
---
Accessories for CL 600
| | | | | |
| --- | --- | --- | --- | --- |
| | | | | |
| CL 600 Guide Vane | Light pan, Black – Function: Reduction of light inside the house | Light plate, Black – Function: rain protection and light absorption | Light plate, Gray – Function: rain protection | Roofing TopSeal |
Fiberglass Sidewall Fans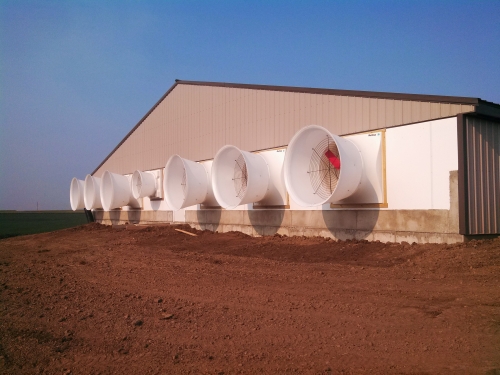 All internal hardware is stainless steel or aluminum to provide maximum corrosion resistance
All materials resistant to aggressive climates
All materials smoothly finished on both sides for maximum performance and easy cleaning
High pressure and high airflow versions available
Available from 18" to 54"