Poultry House Lighting
Correct illumination for optimum light distribution inside the barn
---
Lights should always be installed close to the litter area, keeping the nest area darkened, so as not to disturb the hens during the laying period. Apart from using light tubes, we recommend our innovative and energy-efficient LED tube lamp, FlexLED. Both can be dimmed and suspended vertically from the ceiling of the aisles.
Depending on the group size, one lamp should be installed every 4.80 m (for 20 or 40 hens per group) or every 7.20 m (for 30, 36, 60 or 72 hens per group). These figures are based on the layout of the compartment, which is always nest to nest and scratching area to scratching area. During inspection works, the lamps can simply be pulled up under the ceiling.
Zeus
Moisture-proof LED lamp
The innovative 2-channel moisture-proof lamp, Zeus, ensures even lighting in the entire poultry house. High energy efficiency, dimming from 0 to 100 %, with zero flickering, a wide optical spectrum and a long service life are only some features of this high-quality brand product.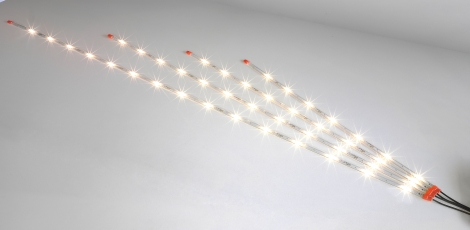 There are nearly no boundaries for the use of FlexLED: The tube lamp optimally illuminates aviaries as well as colony and cage systems. FlexLED is dimmable from 0 to 100 %, does not flicker and ensures an even distribution of light thanks to the special profile of the housing. The plug & play installation system allows for the tube lamp to be connected anywhere at the main cable
FlexLED can be used for illumination in the intermediate aisles of the EUROVENT Systems. FlexLED was developed by Big Dutchman to offer versatility. Thanks to its light weight, small dimensions and different tube lengths, it is well suited to illuminate the aisles between systems and to facilitate daily bird control. The light tubes can be lifted without any difficulty, by means of manual and electrically operated winches. This protects the lighting from damage during the moving-in and moving-out process.
Unique Features
LED-technology – low energy requirement, long durability
48 V DC protective low voltage
Dimmable from 0 to 100%
Use of brand-name LED`s (Osram)
Homogeneous light distribution thanks to the special profile of the tube casing
Flicker-free even at low light intensity
IP 69K – resistant to high-pressure cleaners
Continuous main cable – no transition resistance due to plug connections
Plug & Play assembly – quick, simple and flexible installation
Available in four lengths: 1130mm, 1380mm, 1800mm, 2336mm
Good price-quality ratio