Elevator Systems
---
EggCellent Egg Elevator
Large capacity collection system – suitable for large farms
Designed by Big Dutchman – and a patent pending, the EggCellent Egg Elevator allows for high volume egg collection and minimal need for adjustments and maintenance.
From the longitudinal belt, the eggs are passed onto a short rod conveyor section which then transfers eggs safely onto the entire width of the elevator chain. Deflectors ensure a good distribution of eggs onto the elevator. The innovative and safe transfer of eggs from the elevator to the cross belt is patent pending.
Advantages:
Large collection capacity: up to 19,000 eggs/hour per elevator
Simultaneous collection of up to 8 tiers
up to 12 tiers / 3 stories
for all cage types and long rows
The rod conveyors that pass the eggs safely onto the elevator also serve to clean the eggs and remove dirt before it reaches the elevator
All cage rows stay accessible as no cross collection is required
Simple assembly and adjustment
Minimal maintenance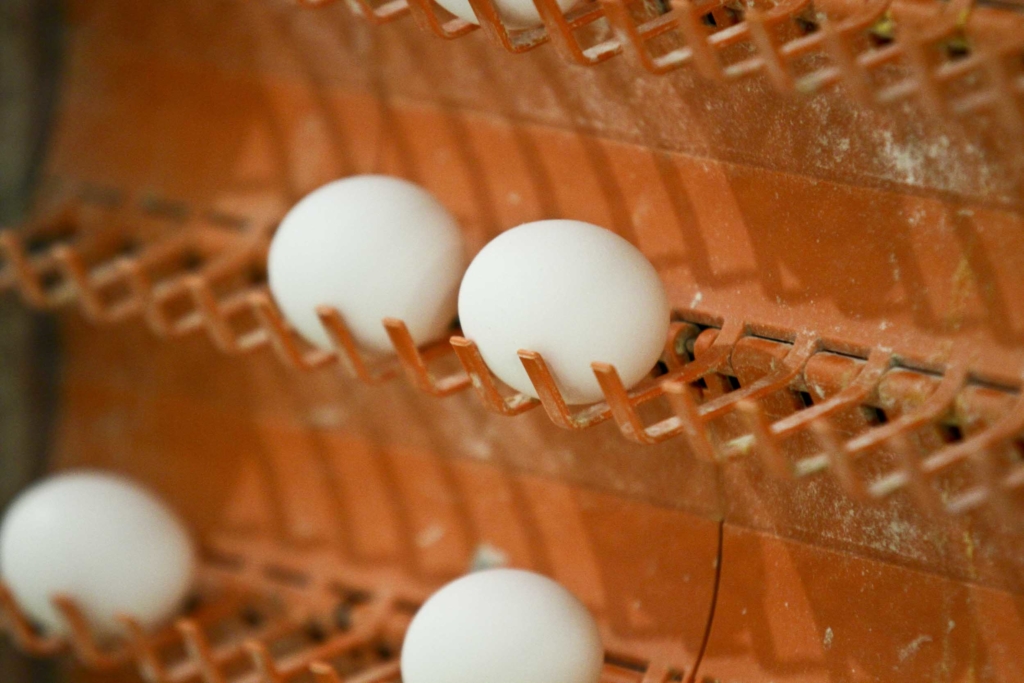 Elevator ST
Reliable standard elevator for short systems
The eggs are transferred onto the elevator chain or baskets in a given pattern with the help of a dosing wheel. The Elevator STcan also be used to collect per row or per flock, for instance if the house contains birds of different age groups. Egg Belts and elevator chains should be actuated separately to better match conveying speeds to the actual laying performance of the flock. The cross belt can be placed in any desirable height – recommended standard height is 2.10m or 82.7" to ensure adequate clearance.
Features:
Suitable for all cage types
Up to 16,500 eggs/h per elevator
All cage rows are accessible; no obstruction through cross collection